April 18, 2019 | Vol 12, Iss 31, No 427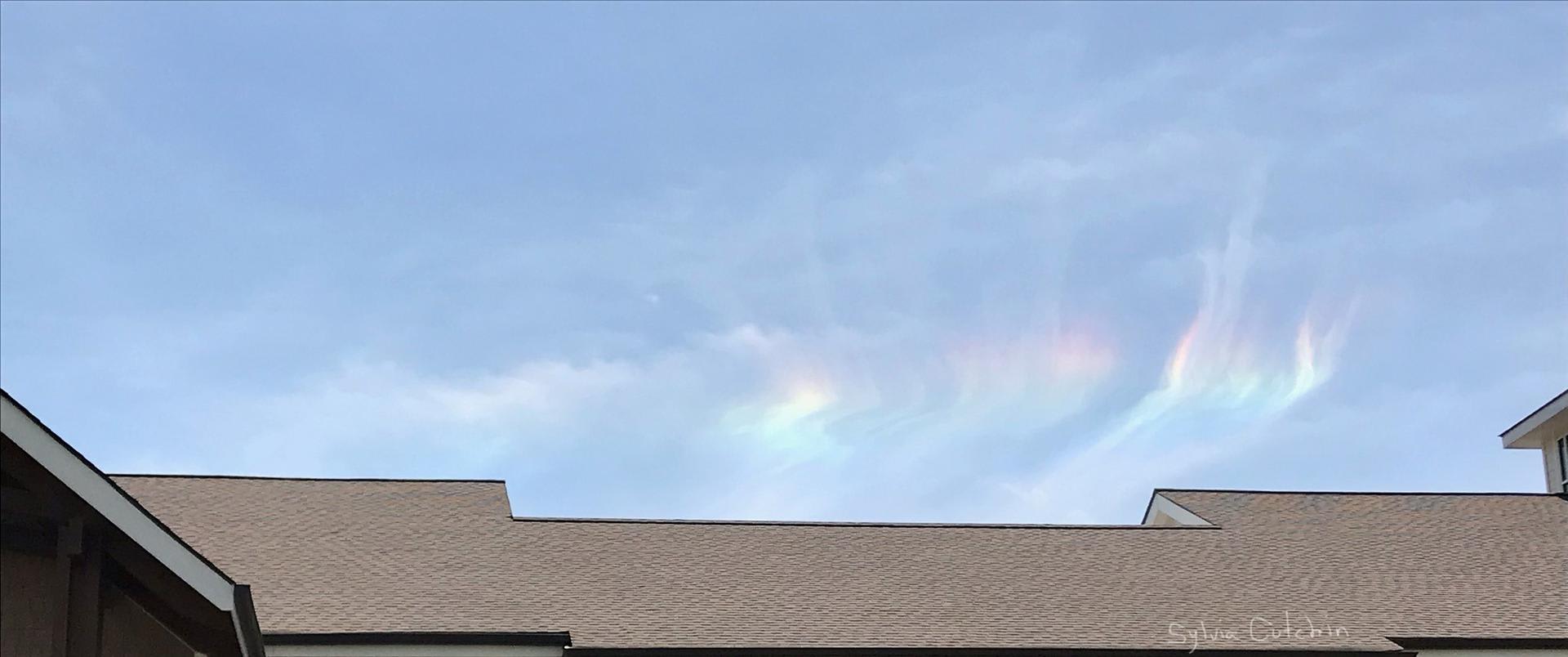 Rainbow in the Sky

Good morning! I wanted to send this out early as we have an early dismissal day and I too would like to be dismissed early.  :)   This week has been filled with sports, a luncheon for our rising 7th grade girls, 8th grade class portrait, a field trip to the Braves stadium and later this evening will be Prom! So much excitement. I know you want to hear an update on Robert, but currently there is nothing new to share. I will send something before the end of the day, and if we get info over the weekend. Make sure you take in all of the awesome work and fun that is going on all around campus below.
The photo of the beautiful rainbow in the sky above the campus was taken by Sylvia Cutchin (Middle School teacher) while they were out on break yesterday. We needed to see that rainbow yesterday.
Everyone have a terrific long weekend and we will see you Monday!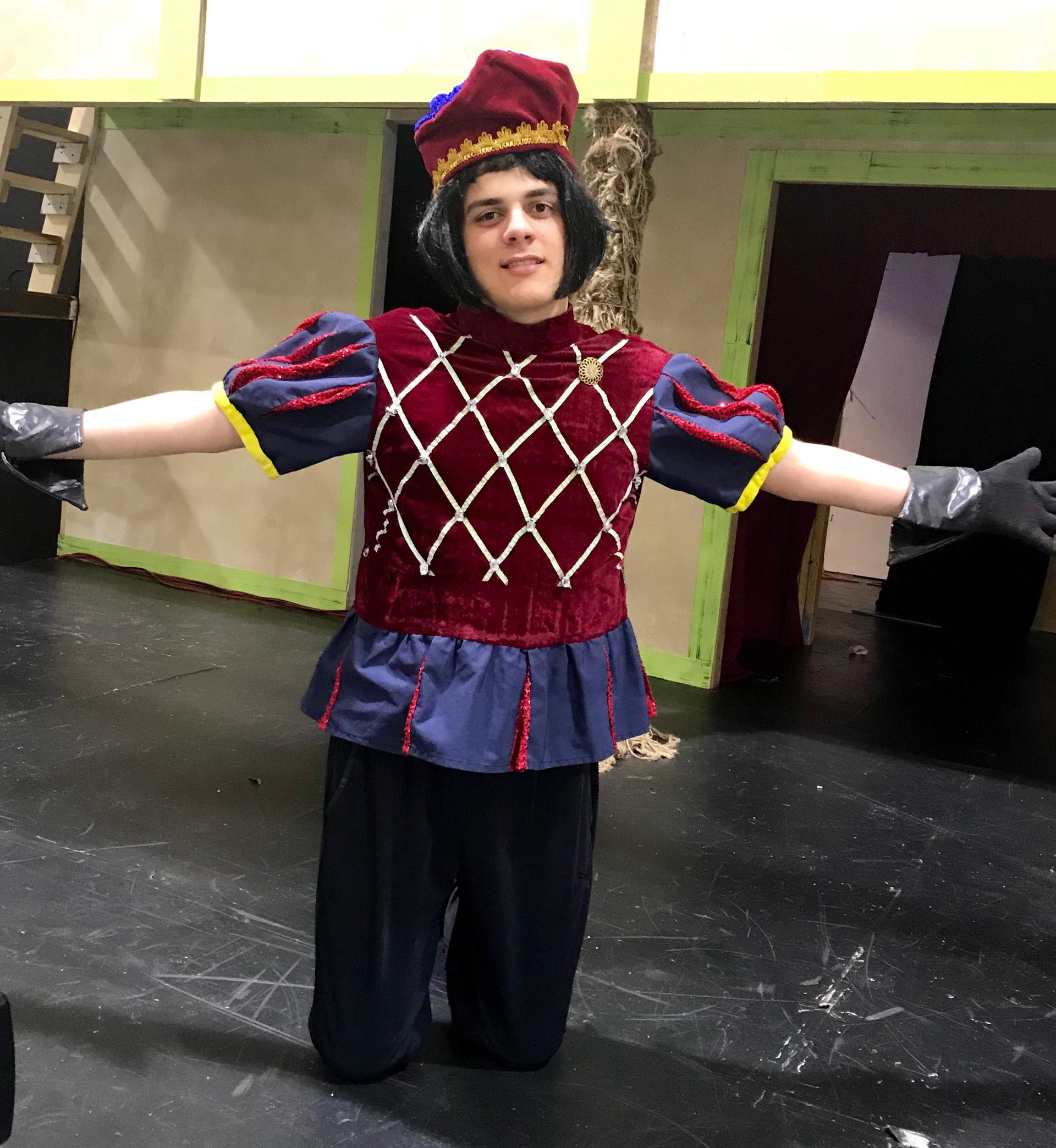 Fine Artist of the Week

Congratulations to our Musician of the Week, Warner Jones (PU8). Warner is playing Lord Farquaad (as he is pictured in costume) in next week's Spring Musical of "Shrek". There may have never been a person before who could "sell" a song like Warner does. This is Warner's first musical at MSA since Lower School and he is an absolute pleasure to have back on stage. But don't take our word for it. You really must see him in person yourself. We promise you won't be sorry! Get tickets for Shrek now!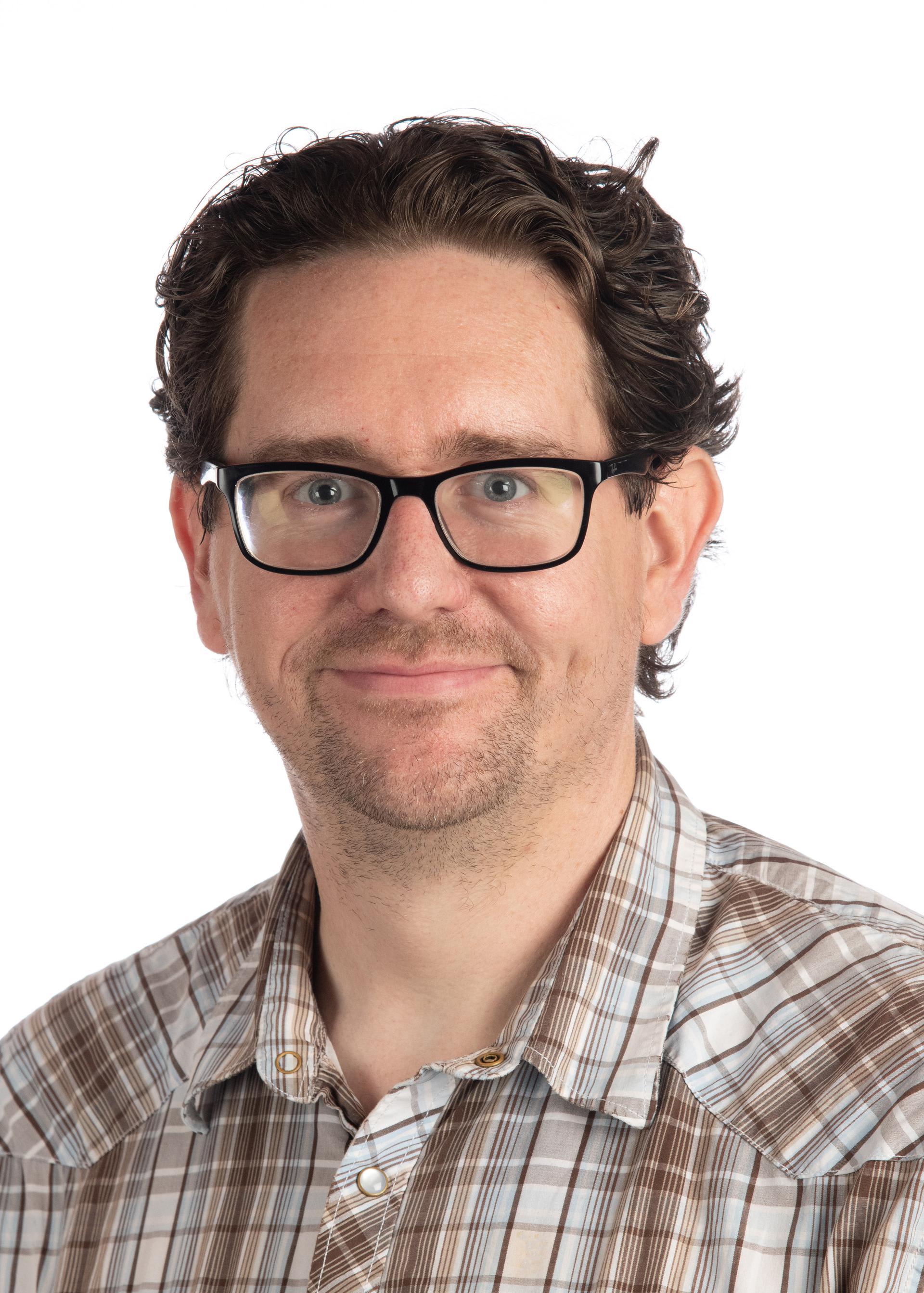 Feature Teacher

Meet Patrick Rose! You may recognize him, he has been around MSA for 7 years teaching Technical Theater, Stage Makeup and Theatrical Design. He has a BA in Theater and has spent the last 15 years working in theater as both a designer and technician. He has been involved in two world premieres of musicals. You may recall that he received an award from Broadway World for his design work on The Hunchback of Notre Dame. Most recently he has become the production manager of his own theater company, Freeform Theater. Working along with colleagues Jamie Fambrough and Sean Newman, they hope to continue expanding theater's reach in the community. The things he likes most about being at MSA is the diversity of approaches to solve a problem.  Also, "I enjoy the freedom that allows me to educate each student as an individual." Additionally he says, "the mountain may have many paths, but everyone will find their way to the top."
Outside of school he loves a good schnitzel mit pommes and som kartoffelsalat and red cabbage on the side. He might even fight you for a boba tea and poke bowl! He loves to read - books, comics, graphic novels and scripts! Currently he is reading the Game of Thrones book 1, hoping to finish them before the last season premiers. He is married to Heather; has a son, Emmett; a daughter, Annabelle; and a dog and cat. It's probably no surprise that he is a film buff, but and interesting fact, he has been an extra in the movie Wanderlust - he is the tallest hippie, but only visible for a second.
Thank you for what you do everyday Patrick!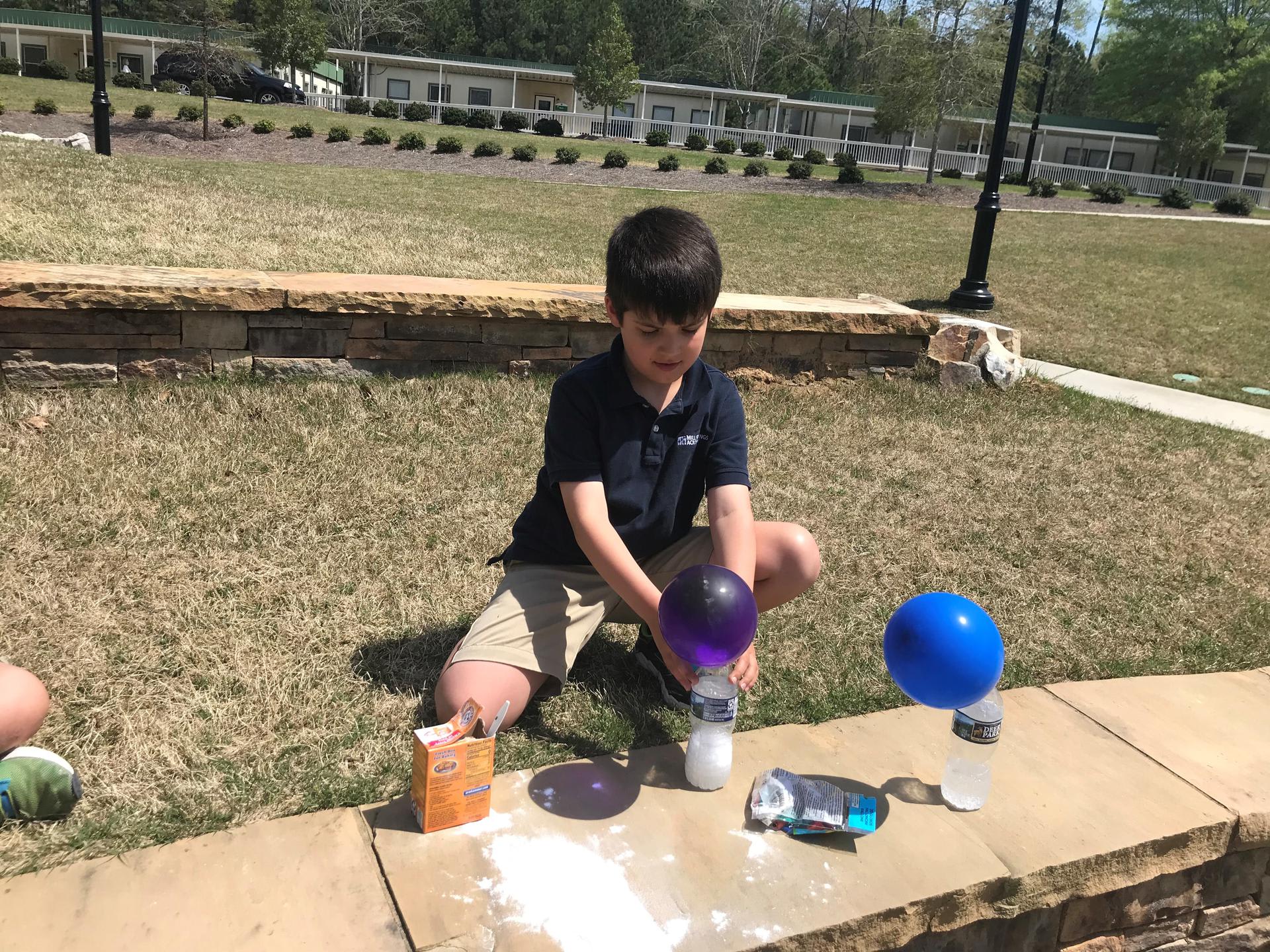 What's the Matter

Carissa's first and second grade science class has been learning all about matter. We learned about solids, liquids and gases, and we have been working with changes in matter. We have a really great time with our experiments in class! This past week we did two different activities that we enjoyed. The class made an edible mixture to demonstrate reversible changes. Then we created a gas (carbon dioxide) by mixing vinegar with baking soda, to demonstrate irreversible changes. The kids had so much fun watching the reaction and blowing up their balloons with the gas that was formed in their bottle. Pictured: Zachary Hamil with his balloon experiment.

Summer Programs have Open Registrations
Did you know that there are lots of fun things going on here during the summer? All of those things are open to everyone, not just MSA students. Summer is always more fun with your friends, so bring them along!
You could sign up for a sport activity at our Summer Athletic Camps, our website has the schedule and registration information.
If you or someone you know needs to earn some high school credits, there is always Summer School. Take a look at our Summer School offerings and share them with someone. We are offering most core classes and certain electives.
If you are looking for a camp program, look no further than Mark Trail Camp, you should check out our summer camp activities we are offering there, lots of fun coming up!
Any Questions?
Summer Athletic Camps - James Sampson
Summer School - Taniah Jones
Mark Trail Camp - Nina King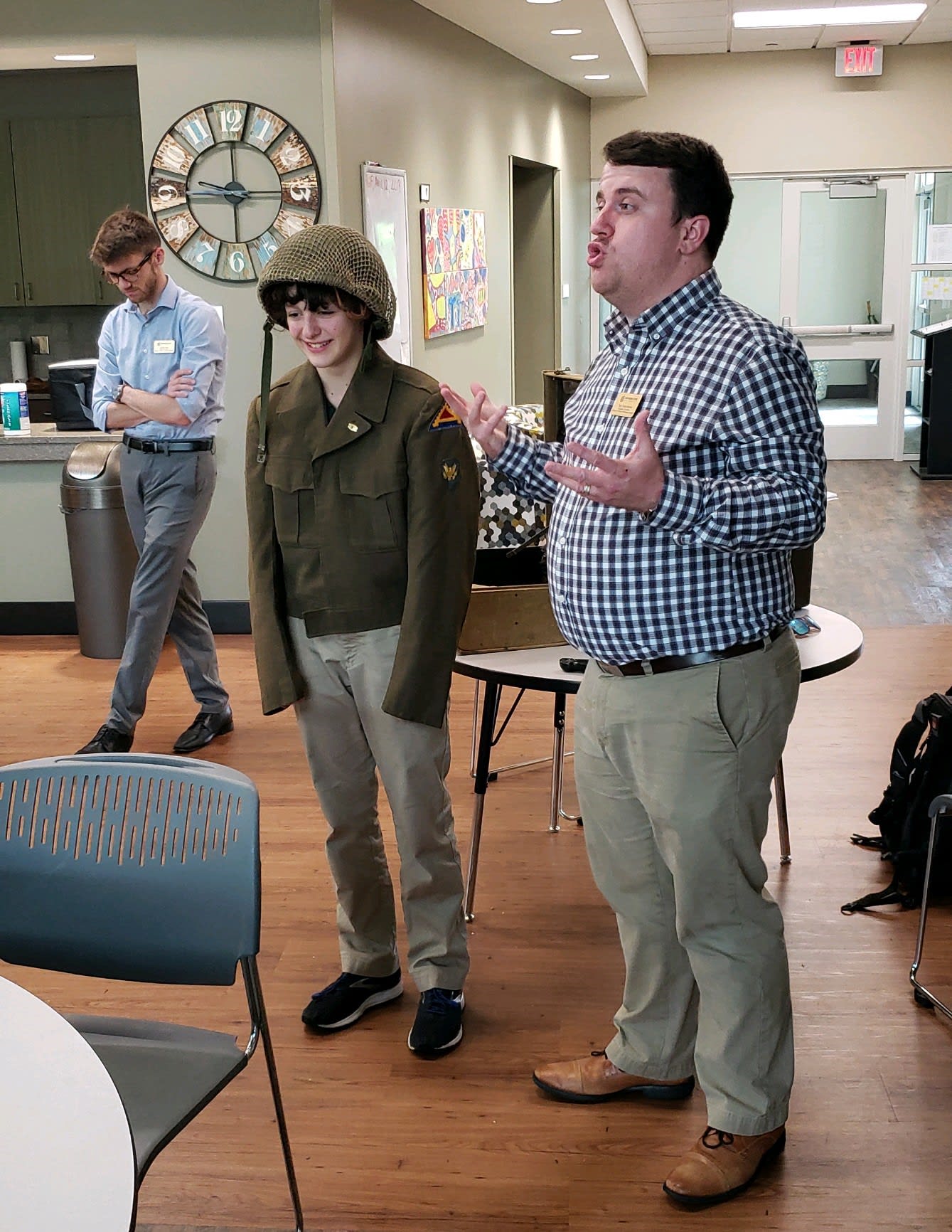 Holocaust Docent Visits

On Friday, Middle School students were visited by docents from the Kennesaw State's Holocaust department. Students were able to see and touch artifacts from World War II and learn more about the life of the soldiers during wartime. Students also learned fundamentals regarding the Holocaust, as a precursor to our field trip to the museum in May. Pictured is Holly Stormont, or as she is now know, Sgt. Stormont, wearing an army uniform from the time period. The students were all happy that they didn't have to eat sea rations!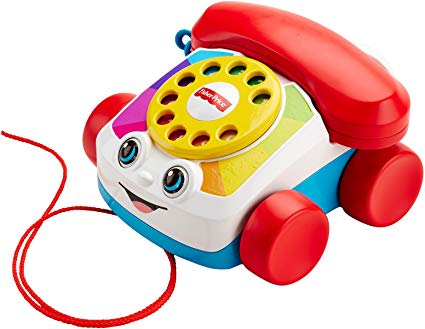 Lower School Phone List

Last week I told you about the new phone system. So here is a reminder that when a teacher calls, their specific direct dial number will appear as caller ID on your phone. So if you store your teacher's phone numbers in your phone, you will always know who is calling you and you won't miss anything important from school. Here is the list of Lower School numbers:
Laurie Jones, Principal      678-893-7786
Jodi Easter-Smith      678-893-7771
Branigan Hughes      678-893-7778
Carissa Nelson      678-893-7781
Kaylee Simmons      678-893-7772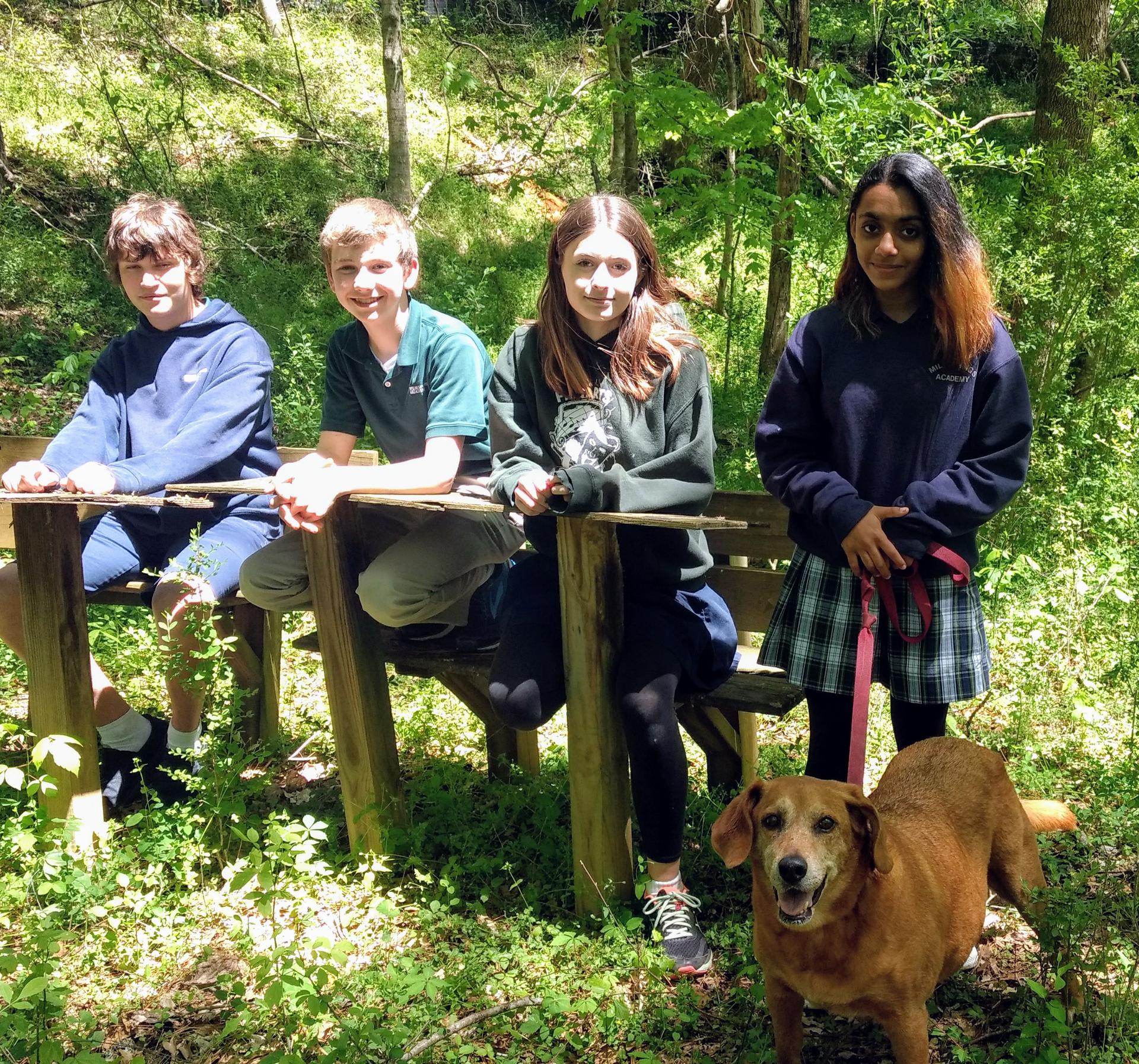 Pollination
With all of the recent pollen, the 7th grade life science classes took the opportunity to better understand the process of pollination. Students found out how flowers reproduce by pollination and fertilization and discovered why lots of new flowers can pop up from just a few seeds. Students should know how new seeds form, how pollen can travel, and how to identify the reproductive parts of a plant. Also, they should be able to recall the roles bees, insects, birds, and even bats can play in the pollination process. Featured in the photo of our outdoor classroom are (left to right) Zach Porter, Matthew Carlson, Presley Hellriegel, Rayna Doniparthi, and PreUpper dog Max. 
--Bryan Sellers, PreUpper Instructor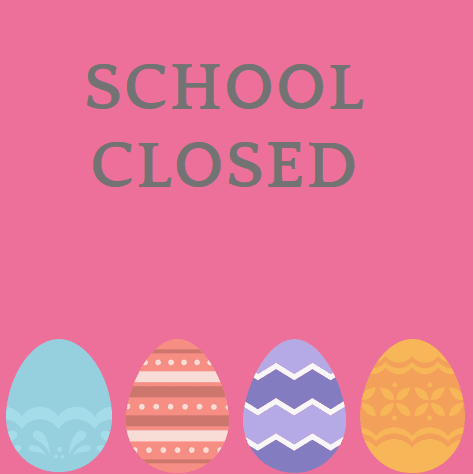 Have a Great Easter and Passover

EARLY DISMISSAL - TODAY
Thursday, April 18, 2019
12:15p - Carpool
12:30p - Bus Departs
SCHOOL CLOSED - TOMORROW

Friday, April 19, 2019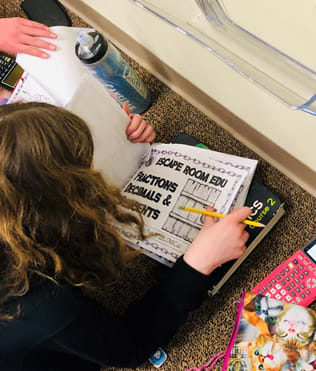 Math Class Escape Room

Last week in 7th-grade math, the students completed their first escape from math class activity. The students solved several fractions to decimal to percent conversion problems to find the clues needed to escape. The Mission Objective: A mad mathematician trapped your whole class in the classroom. In order to escape, you must use your knowledge of fractions, decimals, and percents to convince him to let you go!  The students successfully escaped! The picture on the left is Camryn Padgett looking over her problems to solve.

--Michael Adams, CommArts Instructor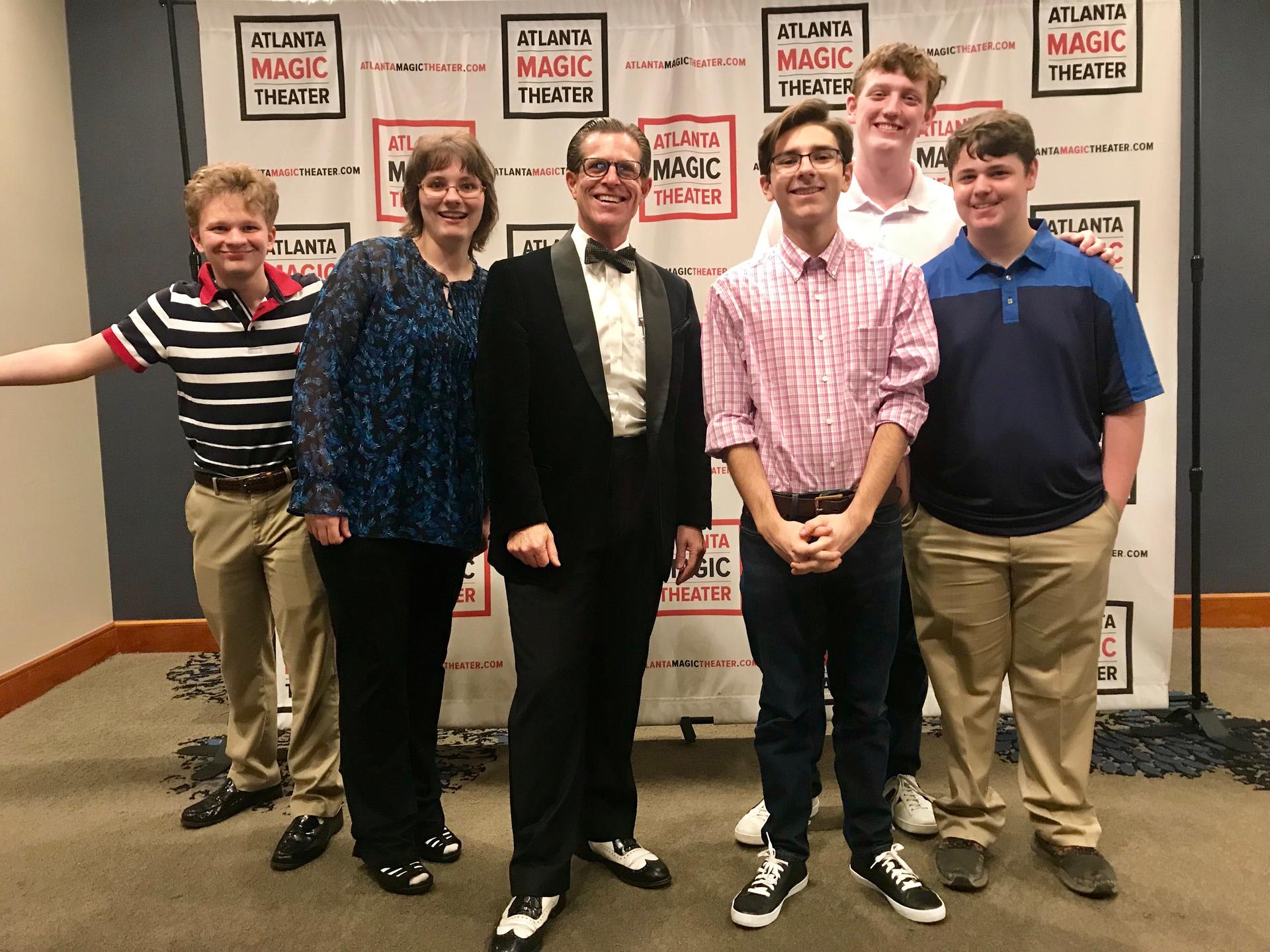 Theater Magic

TRI-Music Honor Students Nick Tate (CA12), Kaitlin Bolander (CA12), Garrett Cutchin (U12), Jack Hurtsellers (U12), and Jacob Beck (CA10), celebrated the end of the year together by going with advisors Kate McElliott (Chorus Teacher) and Kimi Warne (Asst. Band Teacher) to see a magic show in Atlanta.  It was an interactive experience at the Atlanta Magic Theater and students and some of the parents as well enjoyed this outing together. Pictured is the Tri-M group with magician Peter Morrison (in tux) after the show.  All the students learned a bit about showmanship and had a great time being baffled and amazed. The trip was set up by band director Elizabeth Regas. We highly recommend!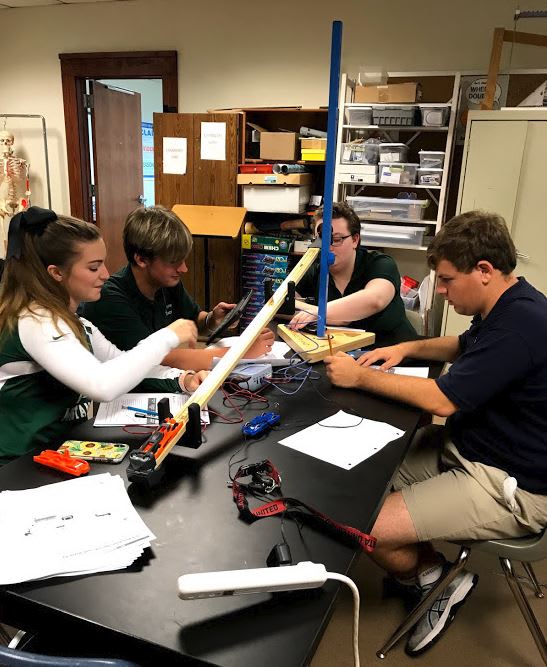 Physics Class: A Year in Review

Guest Journalist - Samantha Horton, U12
Physics is described as the study of matter as well as its behavior and motion. In Vaidehi's Physics class we started with the basics, energy, work, force, speed, are all words we learned the meaning and how they are used. During this section we had a very important research topic in how cars are designed to be safe in collisions. I was able to learn all about the development of cars over time to prevent serious damage in collisions. This leads us to anti-lock brakes, that are used to prevent skidding. All very important topics to learn about. These kinds of terms and lessons were our building blocks to physics.
We then moved on to waves and their behavior. This included light and sound waves, which are the waves we rely on to hear and see. With light waves, we learned the process of seeing color, and how our rods and cones can affect our vision. We had a research project on nocturnal animals, about how they are different in their ability to see in the dark. This ultimately taught us about a special piece of anatomy that they have, called the Tapetum lucidium. This essentially provides another chance for light already reflected through the light to be used, letting them see in the dark. READ MORE


Get YOUR Weekend Shirt

This shirt was created for the sole purpose of getting the word out around town about Mill Springs Academy. That is why we call it our Weekend Shirt. The point is to wear it on the weekend, when you are out and about so people see you. Maybe they will stop and ask you questions about your shirt, the hashtag (#SuccessInSchoolSuccessInLife), or the logo thus giving you a terrific opportunity to share information about the wonderful school your student attends. When this happens we get the word out in the community and the shirt is doing its job. Let's show our school pride all around town.
These shirts are available to you for $14 each! All you have to do is go to the website, order yours today, and then WEAR IT!
www.millsprings.org/ws      (ws = Weekend Shirt)
This short sleeve tee shirt is 100% combed and ring spun cotton comes in gray with a large distressed logo printed in green on the front, Mill Springs Academy on the sleeve, and the hashtag #SuccessInSchoolSuccessInLife across the back in Mill Springs Green.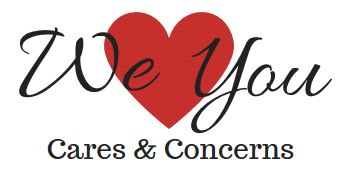 Community Cares & Concerns

The Allen Family
The Buckley Family
The Moore Family
The Smallwood Family
The Smith Family
If there is ever a care or concern you would like to share with the community, please just email me at any time, I will be glad to include either names or situations. For privacy, I will only list names and claim ignorance if anyone asks me for details. Cheri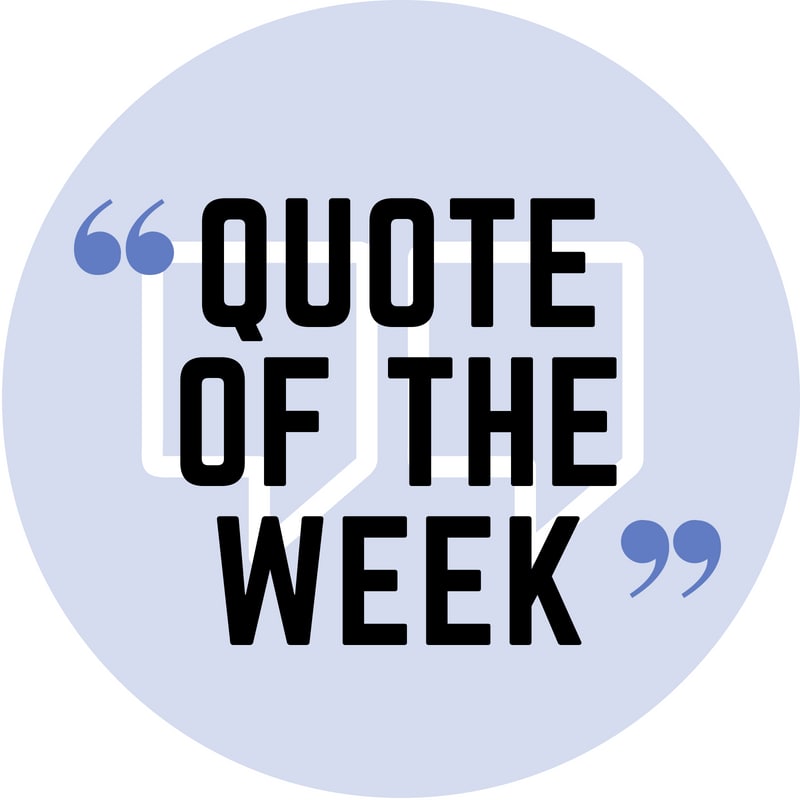 Quote of the Week
Friendship, of itself a holy tie, is made more sacred by adversity.
--John Dryden
Thursday April 18
7:00 PM - 11:00 PM
Tuesday April 23
9:00 AM - 2:00 PM
Roswell Park
Tuesday April 23
11:30 AM - 1:30 PM
Tuesday April 23
2:00 PM - 5:00 PM
Roswell Park
Wednesday April 24
9:00 AM - 2:00 PM
MSA