February 8, 2019 | Vol 12, Iss 22, No 418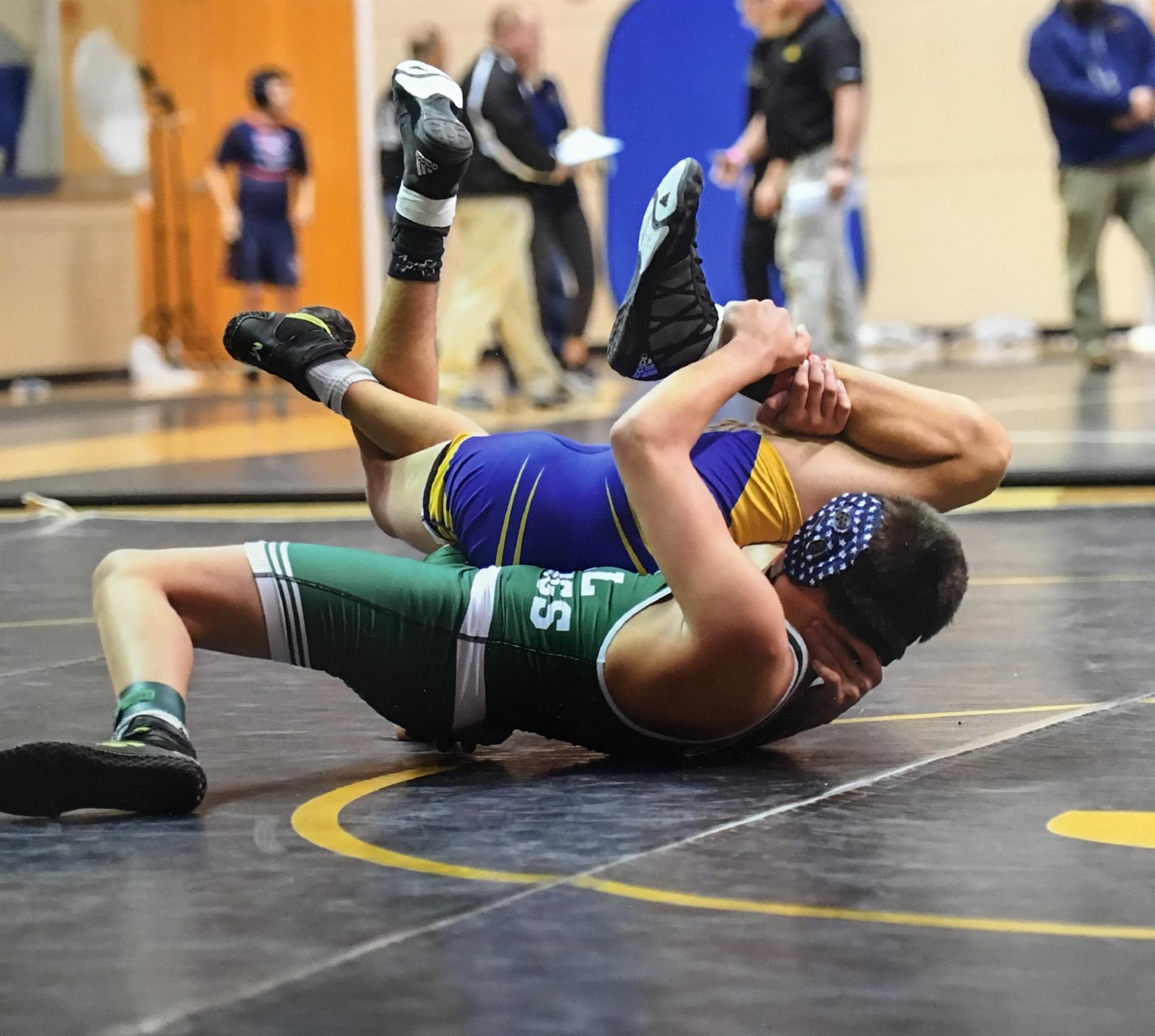 Happy Friday %firstname%!

Since our last Newsletter there has been a Homecoming Dance to wrap up all the Homecoming Week activities, all of our Fine Arts groups have taken photos, and PVA has been busy setting up for this weekend's Mustang Mardi Gras - this year's signature fundraiser event. A contingent of students are currently attending the Thespian Conference (affectionately known as ThesCon) and the Basketball team is preparing for their championship games early next week. Lastly, MSA's Wrestling Team had two State Medalists. Senior Michael Healey (6) and Freshman Daniel Tarrant (5) both made the podium - CONGRATULATIONS. Pictured is Alex Singer with his opponent trapped in a Banana Split move. So this has been one awesome week!
The craziness of the weather has brought warmer temperatures and sunshine, which I love but it lulls us into thinking that 50 is cold. As someone said to me yesterday, "Second Winter is coming." It is only February, so there's bound to be a little rain sometime (isn't that in a song?), and we are probably going to still get some snow. But then I am no weather forecaster. Anyway, I will see some of you tomorrow at the Mardi Gras and the rest of you on Monday!
Have a great weekend, Happy Friday.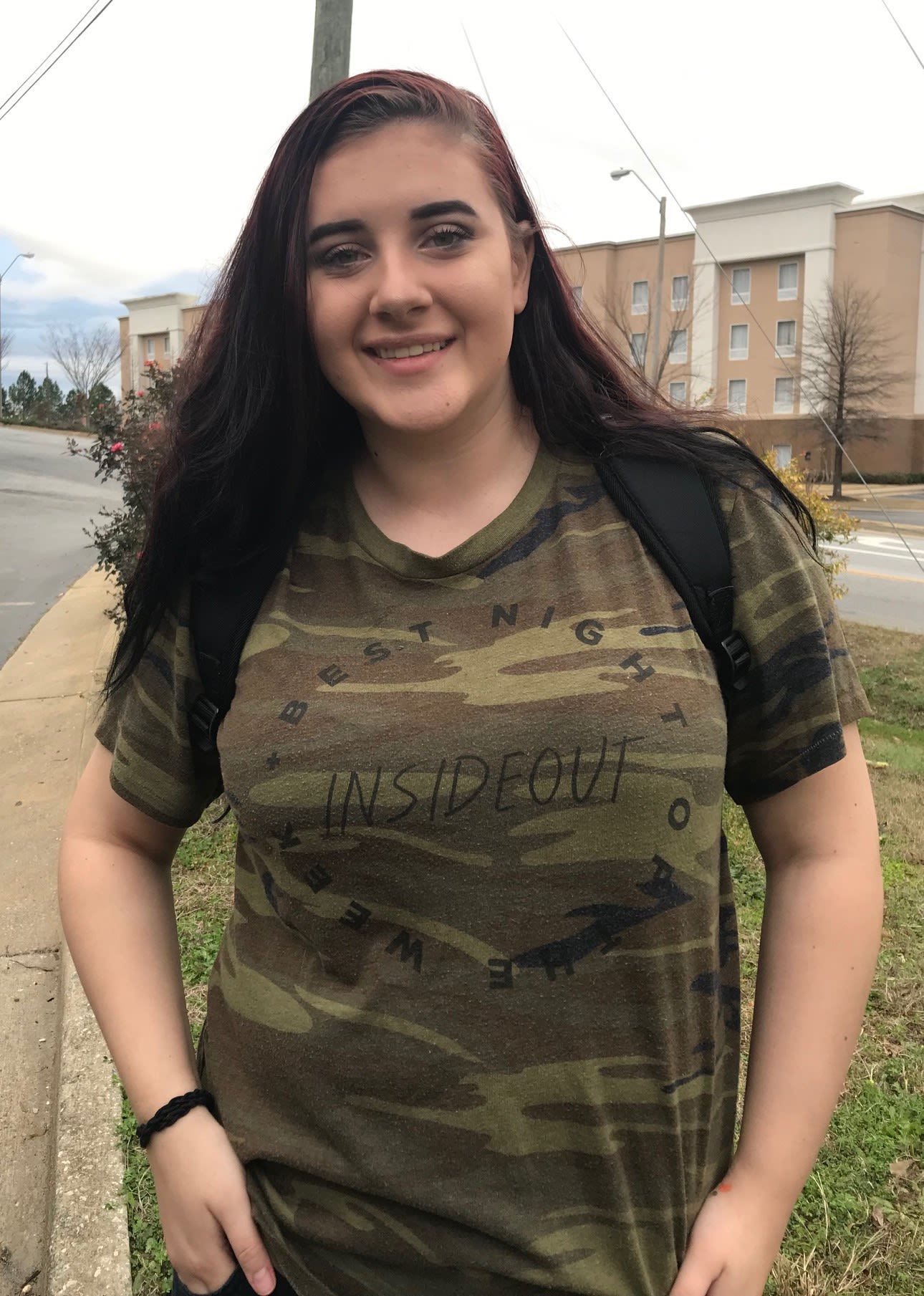 Fine Artist of the Week

This week's Fine Artists of the Week is Vivian Anker! Vivian is an 11th grader and new to MSA this year. But she has quickly shown how dependable and resourceful she can be. At One Act competition last fall, when a cast member fell ill suddenly, she jumped onstage and performed the role as if she had been doing so the whole time. AND she has been chosen as our student Stage Manager for the Spring Musical, Shrek. She is dedicated to theater and one that we can always count on. All this and so much more makes Vivian Anker our Fine Artist of the Week!!!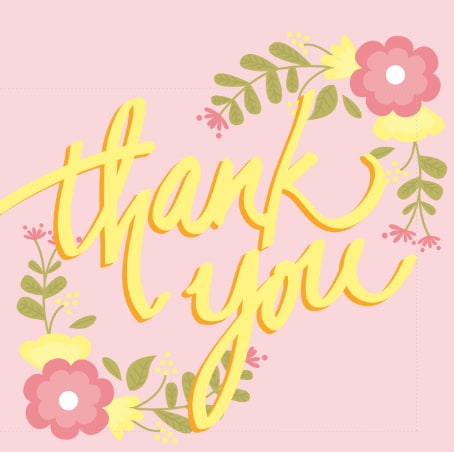 Parent Thank You

Dana Schneiderman, Suzanne Gaines
Lisa Rolka, and Laura Vladick
Thank you so much for helping out with the swim team party! The kids had a blast, and it was an AWESOME way for us to get together one more time for a celebration. It was so nice hearing all the swimmers share their stories from the season, and it was so special to recognize our graduating seniors. We couldn't have had so much fun without your help. Thank you!
Coaches Josh, MG and Astrid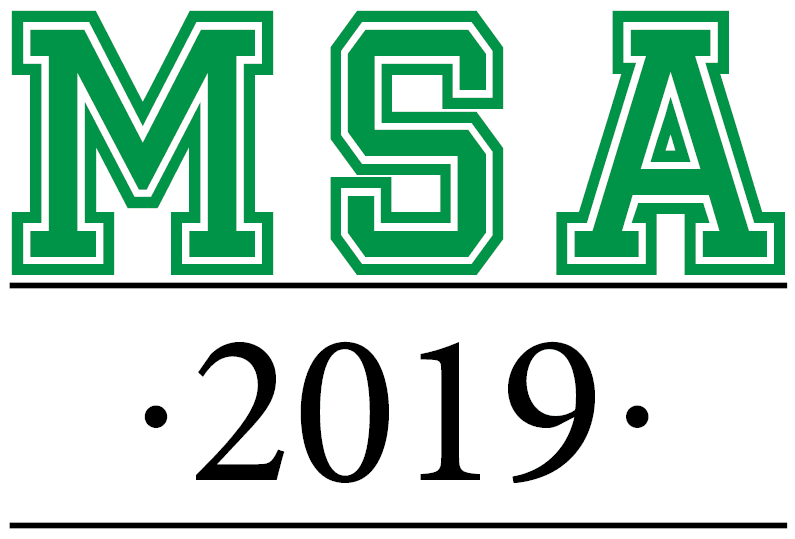 Congratulations
Congratulations to Jacobi Garrett! He has been accepted to High Point University in North Carolina.
Go Mustangs!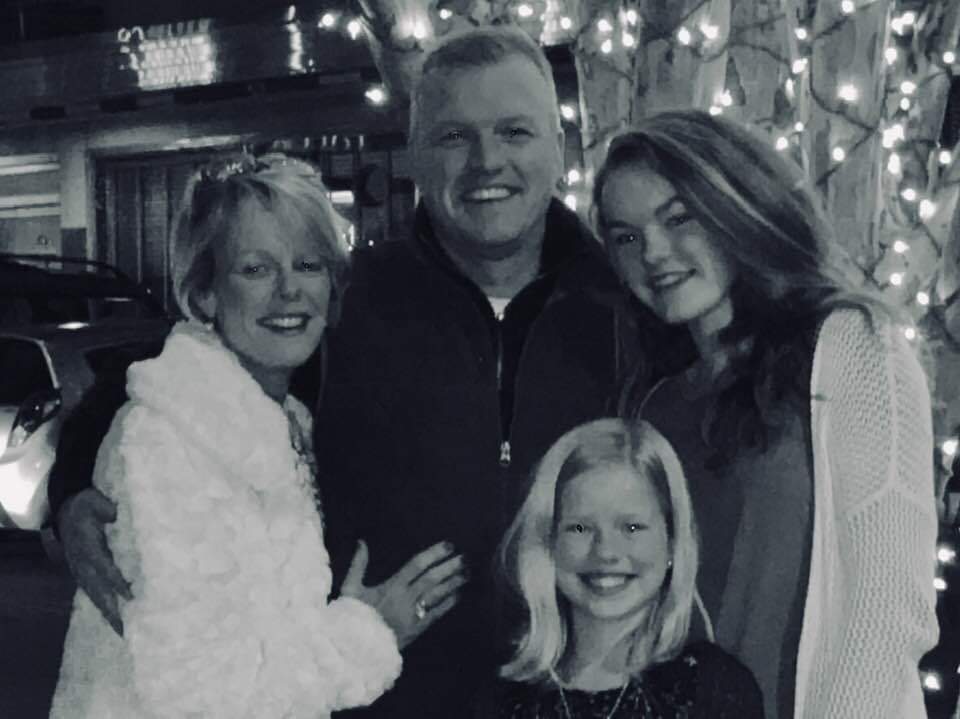 Welcome to J.P. Watson and Family

We hope you received the announcement about J.P. Watson coming on board. We are very excited about his placement as Upper School Principal in the fall. We had a short visit this week to meet the staff and faculty, as well as some of the students. When we schedule the Parent Meet and Greet with J.P., we will let everyone know. But in the meantime, if you are attending this weekend's Mustang Mardi Gras, we hope you will introduce yourself to J.P and his wife Caroline.
Pictured are J.P. and Caroline, with their two daughters Sarah Elizabeth (Front) and Rebecca (R).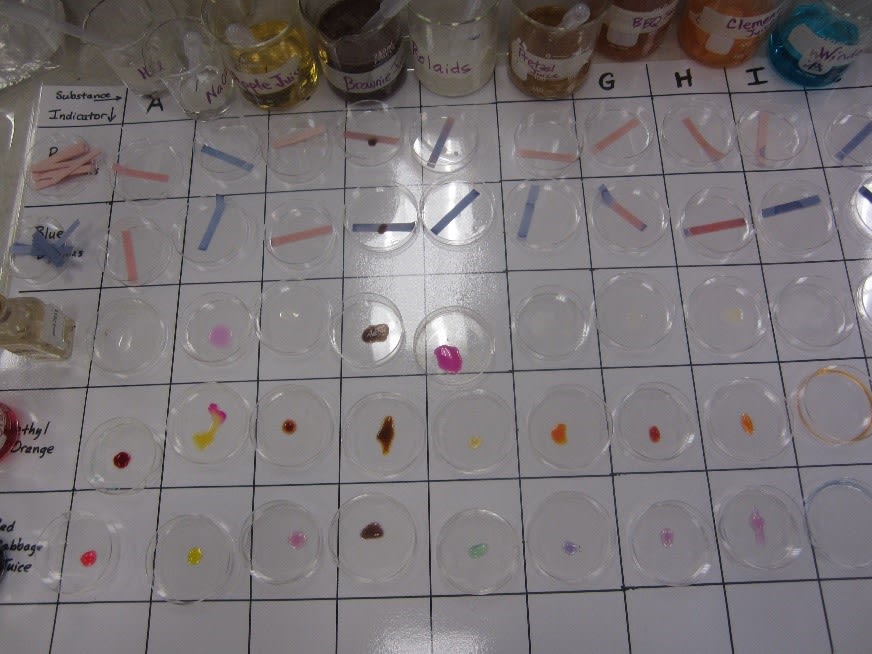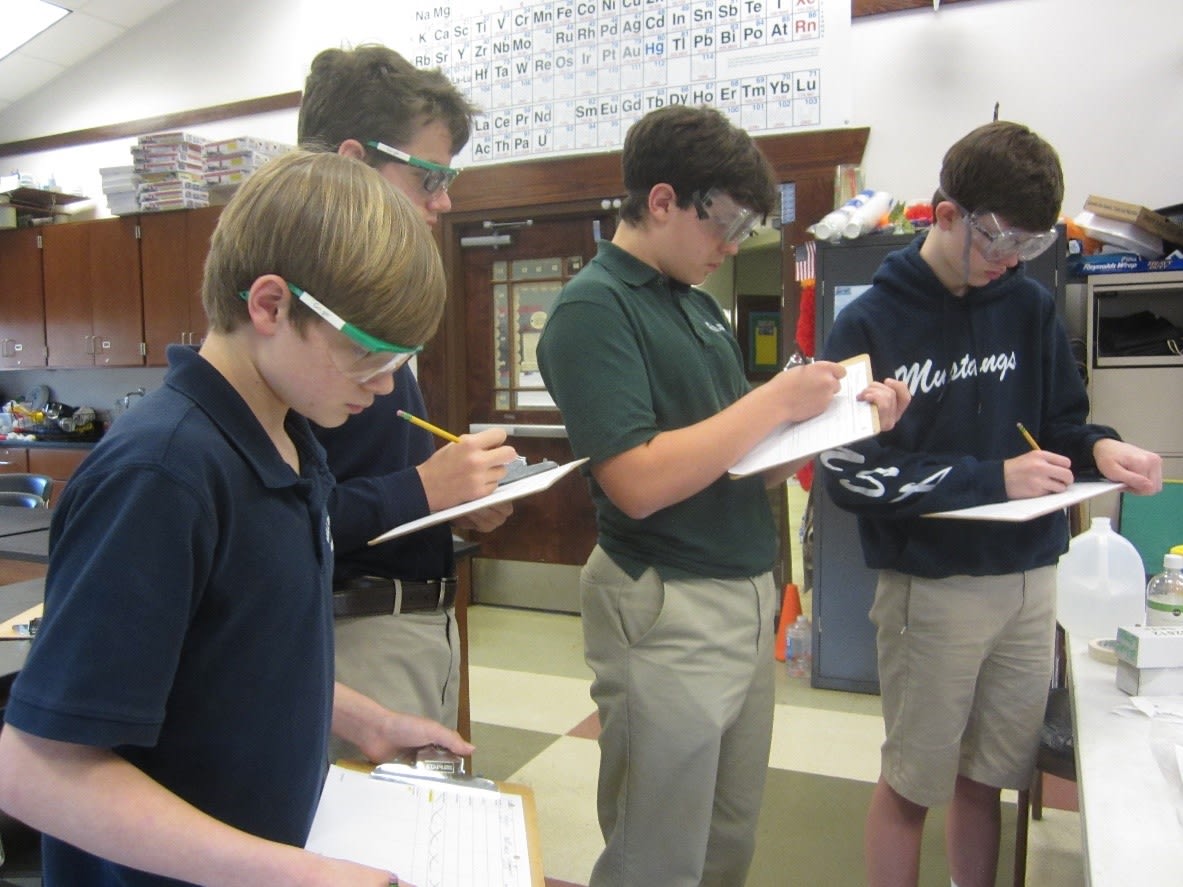 Investigating Acids and Bases

This week in Martha's 8th Grade Physical Science class, we studied the physical and chemical properties of acids and bases. Among the topics we talked about were indicators that show the presence of an acid or a base. Red and blue litmus and phenolphthalein were two mentioned in the notes and the students worked with another, red cabbage juice, in a virtual lab that we did.
Students conducted an indicator lab using several by testing 10 different solutions, mainly items found in the PreUpper kitchen including pretzel juice*, clementine juice, apple juice, stale brownie juice*, and Windex. (*made by mashing and mixing with water. Substances have to be dissolved in water to show acidic or basic properties.)
A total of 50 combinations of solutions and indicators were made. Students recorded (pictured left) all of the color changes that occurred and used them to determine if the solutions were acidic or basic. In the right picture Smith Hill, Andrew Buchberger, Michael Rolka, and Clayton Weseman record data during the lab.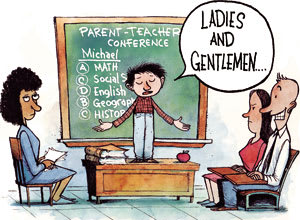 Conferences Continue

Whatever days your school is holding conferences, there are no classes for your student. Please pay close attention to the schedule, which follows:
 
PreUpper/CommArts/Upper
Student Conferences
February 15 and 22
Students should wear their uniform to the conference. If you have any questions, please contact your principal, they will be glad to answer them for you.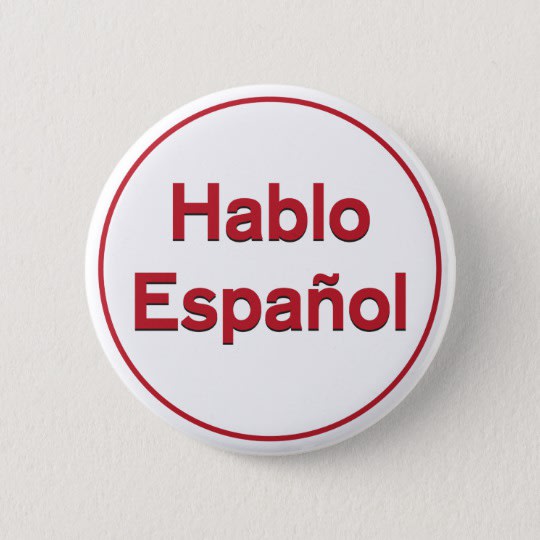 I Speak Spanish

Students in Astrid's Upper School Spanish class are learning the Spanish simple present tense. Present tense can be used to talk about habitual actions, routines, thins happening now or in the near future and ordering in restaurants and stores. Also they learned how to conjugated an –ar verbs in class. To conjugated an –ar verb, remove the infinitive ending (-ar)  and add the ending that matches the subject, because the ending of the Spanish verbs indicate who the subject of an action is, you can often drop the subject pronoun, ( yo,  tú, nosotros, etc.).
For example, in the sentence, "Hablo Español" ( "I speak Spanish"), the pronoun "YO" isn't really necessary the –o ending tells you who is  the subject of the verb. The present tense in Spanish can mean three things. For example in the present tense Hablar.
Hablar.
Yo hablo        I speak

Yo hablo        I am speaking

Yo hablo        I do speak.

Public Open House
Wednesday, February 13
9:00 - 11:00am
Student Activity Center
Many of you have attended an Open House on campus, and if you have, you know it is a great opportunity for someone to get a good feel for what Mill Springs is all about. If you haven't attended an Open House, it provides potential families with an overview of the school, a wonderful Fine Arts presentation, at least one parent and one student perspective, a tour of the school and an opportunity to speak with the principal. If you know someone that might benefit from attending MSA, PLEASE invite them to an Open House or better yet bring them! Word of mouth is by far the biggest way families find their way to Mill Springs. We know that you sometimes have the chance to be "Mill Springs on the Street" and we truly thank you for sharing MSA!  www.millsprings.org/OpenHouse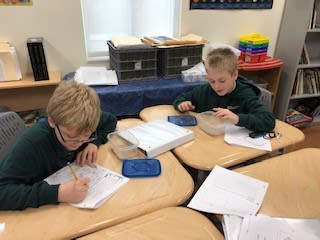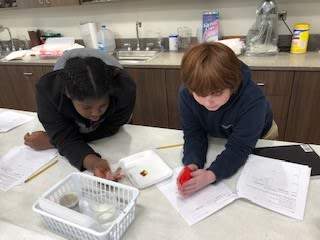 Crushing Candy in Science
The students in Katie's fifth grade General Science class have been learning about some of the destructive and constructive forces that change the appearance of Earth's surface.  The weathering and erosion of rocks are two examples of destructive process, which wear down Earth's surface. The deposition of sediments and volcanic activity are examples of constructive forces that build up Earth's surface features. To simulate the forces of weathering, erosion, and deposition, the students participated in a lab activity called "Candy Crush". In this lab activity, the students use Skittles and sandpaper to simulate how sediment is formed from the weathering of rocks. They also used Skittles and water to represent the process of erosion and deposition. In the left picture Aidan Burris and AJ Christian are observing Skittles that have been weathered by coarse and by fine sandpaper, then determine which type of sandpaper caused more weathering. In the right photo, Zoe Weaver and John Keeley Davis are adding drops of water to Skittles to simulate the erosion or movement of sediment by water. This helps them find out if the force of water affects the amount of sediment (represented by the color coating on the Skittles) being eroded from the Skittles.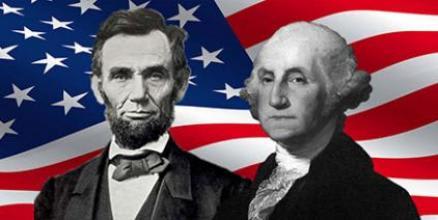 Presidents' Day
Monday, February 18
SCHOOL is CLOSED
in honor of
Presidents' Day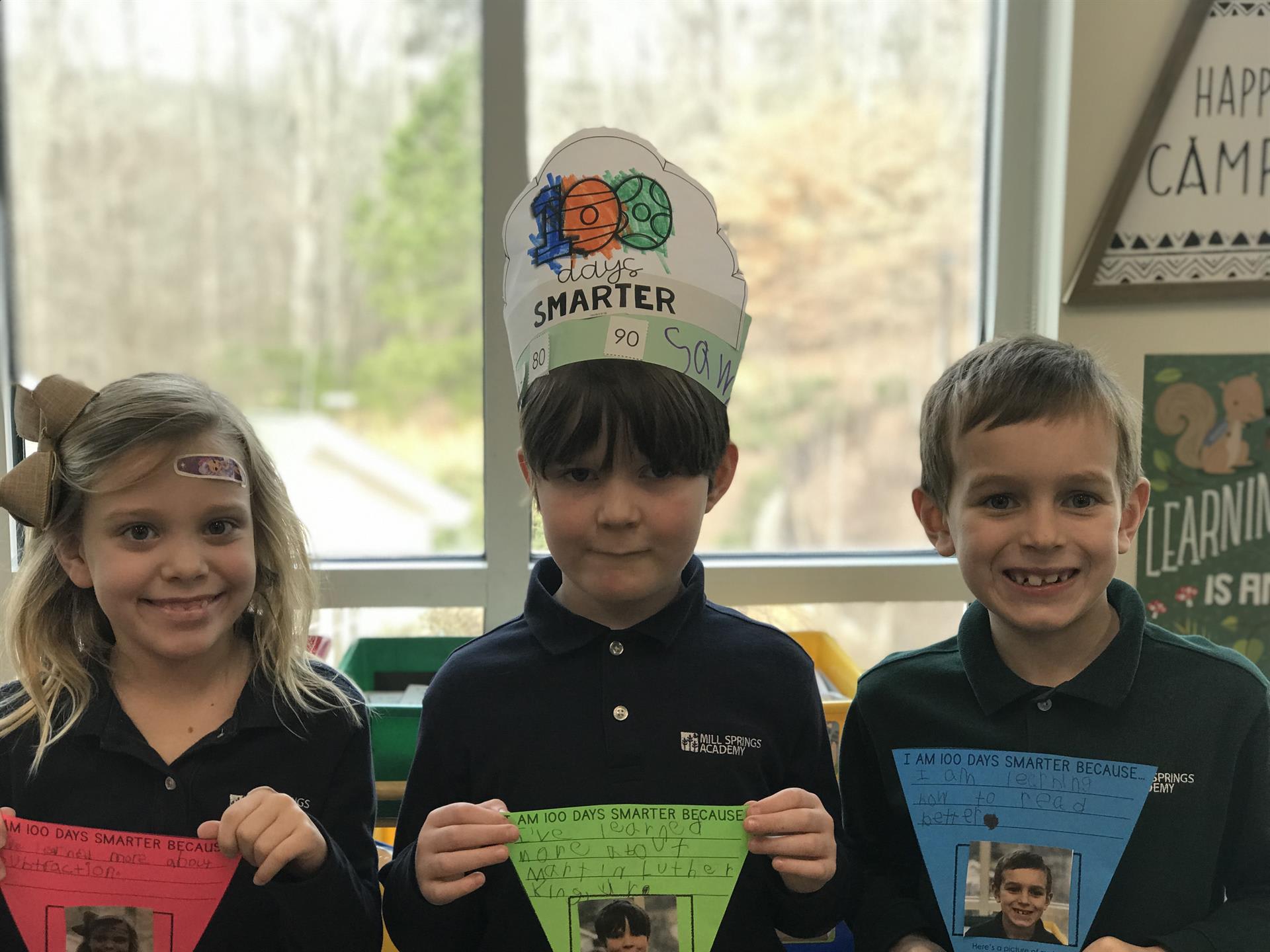 100 Days of School

Last Thursday, was the 100th day of school and the students in Branigan's class had a great time celebrating. Each student brought in a bag with 100 items. Sawyer Smith brought in 100 dinosaurs and Henry Waugh brought in 100 Cheerios. We counted these items to practice counting to 100. The students played a game in math called "Roll to 100". They had to take turns rolling big foam dice and had to add the two numbers together. Then, they colored that many squares on a hundreds chart until they got to 100. The students were asked what they have learned this year. Then, they wrote their answers on a pennant. Henry said, "I am learning how to read better," Jansen Jones wrote," I've learned more about subtraction," and Sawyer said, "I've learned more about Martin Luther King, Jr.". We also made crowns to wear while we celebrated our 100th day. I can't believe the year is over halfway finished. Time flies when you're having fun! Pictured from left to right: Jansen Jones, Sawyer Smith, and Henry Waugh.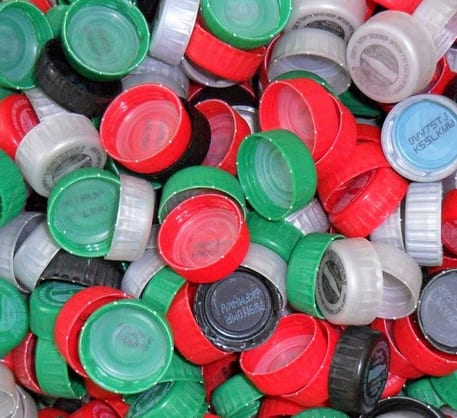 Turn in Free $$ Labels and Caps
Send them with your student, drop them in the office, or bring them on conference day!
Box Tops, Coke caps (PowerAde, Minute Maid, & Dasani) are due by Friday, February 22 to be eligible for the drawing. Place items in a Ziploc bag or envelope with your student's name & grade on the bag. Drop in the collection containers in each school or office. Spring drawing winners will be announced in March. EACH School will have a winner who can choose a $10 Gift Card from Amazon, Barnes & Noble, Dick's or Target. Contact Lesly Huffman at leslyhuffman@yahoo.com with any questions.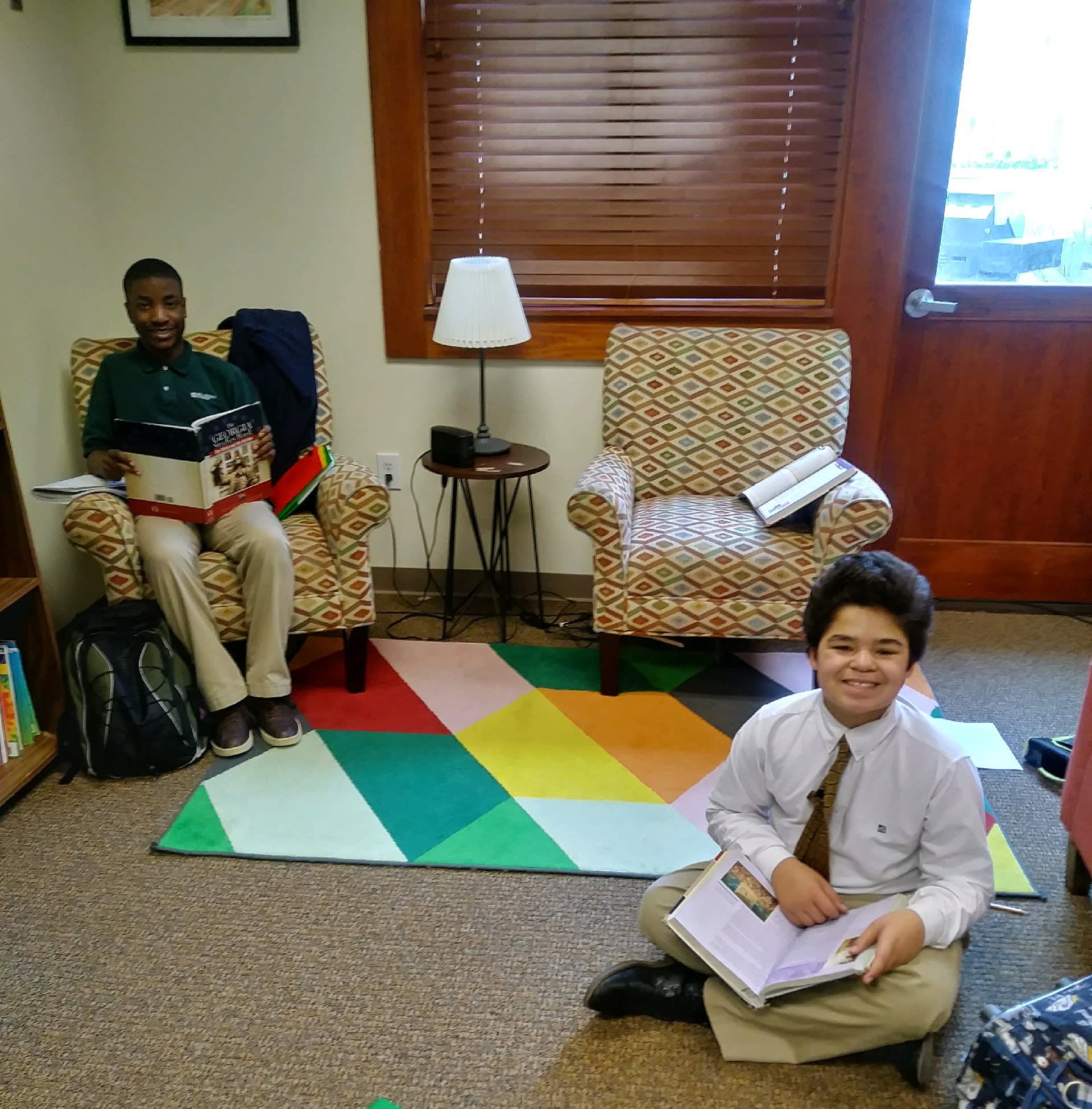 Black History Month

February is Black History Month. A time when my class will give special attention to learning about the contribution and history of African Americans.
This week we began our lesson about African Storytellers. My students use a variety of resources to find out more about griots and African storytellers. Their work will culminate in presentations about African cultures as it is told through tales.
--Taniah Jones, CommArts Asst. Principal and Instructor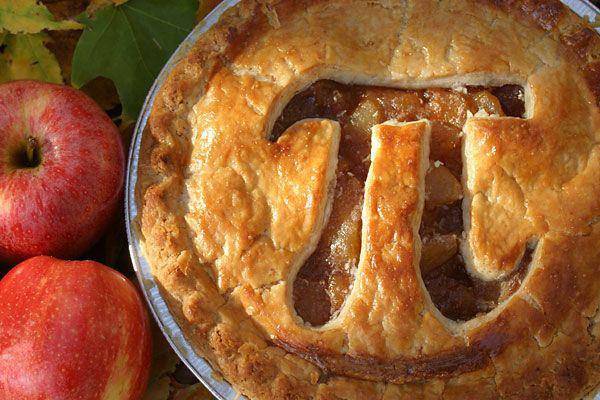 Learning Pre-Algebra

In Nina's Pre-Algebra classes we have been reviewing concepts from last semester. Over the course of this semester we will learn and work with a plethora of new math skills including: repeating decimals, ratios, collecting like terms, basic probability, adding and subtracting integers, distributive property, introduction to equations, volume, pi, multi-step word problems,  numbers in a series, two-step equations, and percentages (calculating sale costs, tax, tip, etc.). In order to bring the curriculum alive the class will enjoy BrainPop, online math games, hands-on projects, and group work. The students have already been asking about Pi Day in March which is always a big hit! From learning the formula for Pi to calculating Pi to eating pie on Pi Day, it's always a class favorite.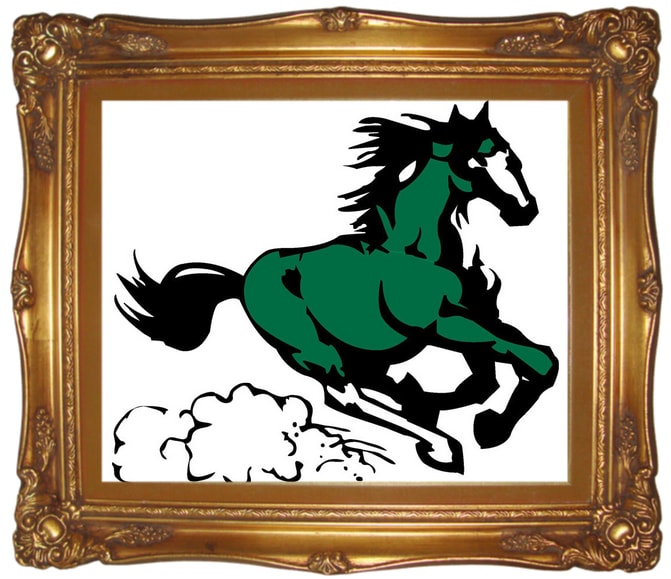 Got Pictures?

Thank you so much to those individuals that frequently think of sending in photos they take at sporting events, etc. I love getting them!
If you are prone to take pictures of your Mustang at any of the events, on or off campus, whether you take pictures with your cellphone or a camera, I would love to have them to share on our different social media outlets. When you attend any of the athletics or other activities, please keep me in mind and forward your pictures to pictures@millsprings.org. It's so helpful to have other feet on the street. Thank you in advance, I really appreciate it.
--Cheri Harwood, Director of Communications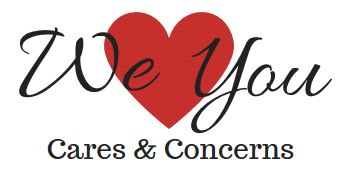 Community Cares & Concerns

The Allen Family
The Buckley Family
The Smith Family
If there is ever a care or concern you would like to share with the community, please just email me at any time, I will be glad to include either names or situations. For privacy, I will only list names and claim ignorance if anyone asks me for details. Cheri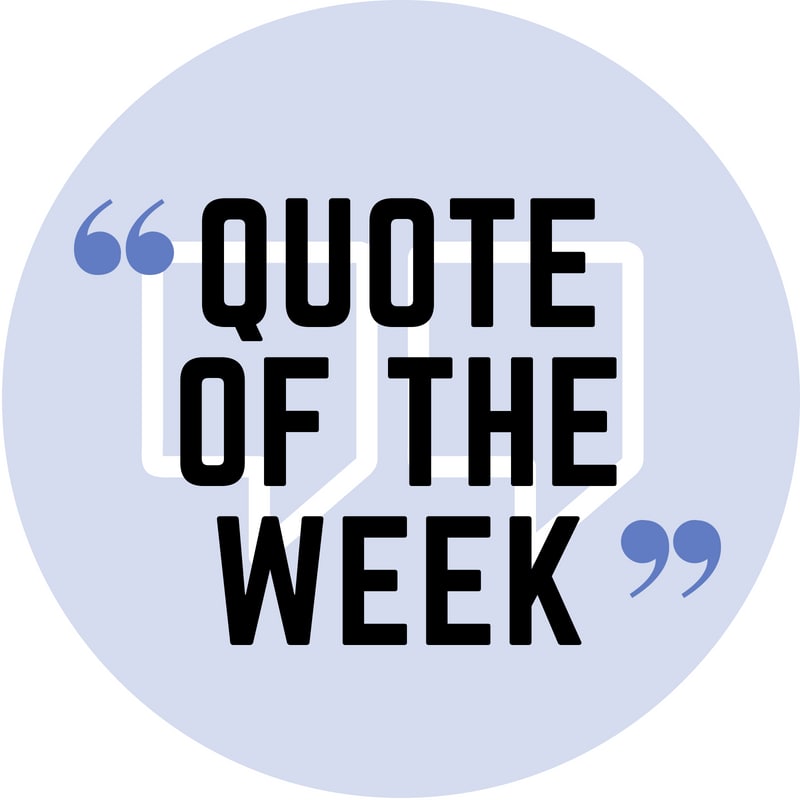 Quote of the Week

The talent of success is nothing more than doing what you can do well; and doing well whatever you do, without a thought of fame.
--Henry Wadsworth Longfellow
Friday February 8
All day
Your School
Saturday February 9
All day
Saturday February 9
7:00 PM - 11:00 PM
Naylor Hall, Roswell
Monday February 11
All day
Monday February 11
12:00 PM
Monday February 11
1:00 PM - 7:00 PM
MSA
Tuesday February 12
12:10 PM
Wednesday February 13
9:00 AM - 11:30 AM
Theater
Wednesday February 13
1:00 PM - 7:00 PM
MSA
Friday February 15
All day
Your School