March 7, 2019 | Vol 12, Iss 26, No 422

We have had a very busy week which began with the PVA's Coffee after Carpool, the fabulous day long Celebration of Differences event in the high school, the story telling antics of RepTour who visited the Lower/Middle students, and the arrival of spring sports which have begun. The Fine Arts department held their annual Studio Arts Gallery Friday evening and we will hear more about that next week. There are some wonderful articles of many of the great things that took place here on campus. Make sure you look at them all.
Between the weather fluctuations and the flowers already blooming, it is hard to tell what season it is around here, today the sun is shining and I like that! Yesterday as I came around the corner to pull into my driveway, I noticed it was being warmed by the sunshine. Right there on the warm concrete of my driveway, there was a fox curled up taking a nap! When I opened the garage door with the remote, he decided to move, stretching as he got up from his nap. I guess he enjoys the sun as much as I do. 
Enjoy your nice long weekend, oh and don't forget to change your clock %firstname%!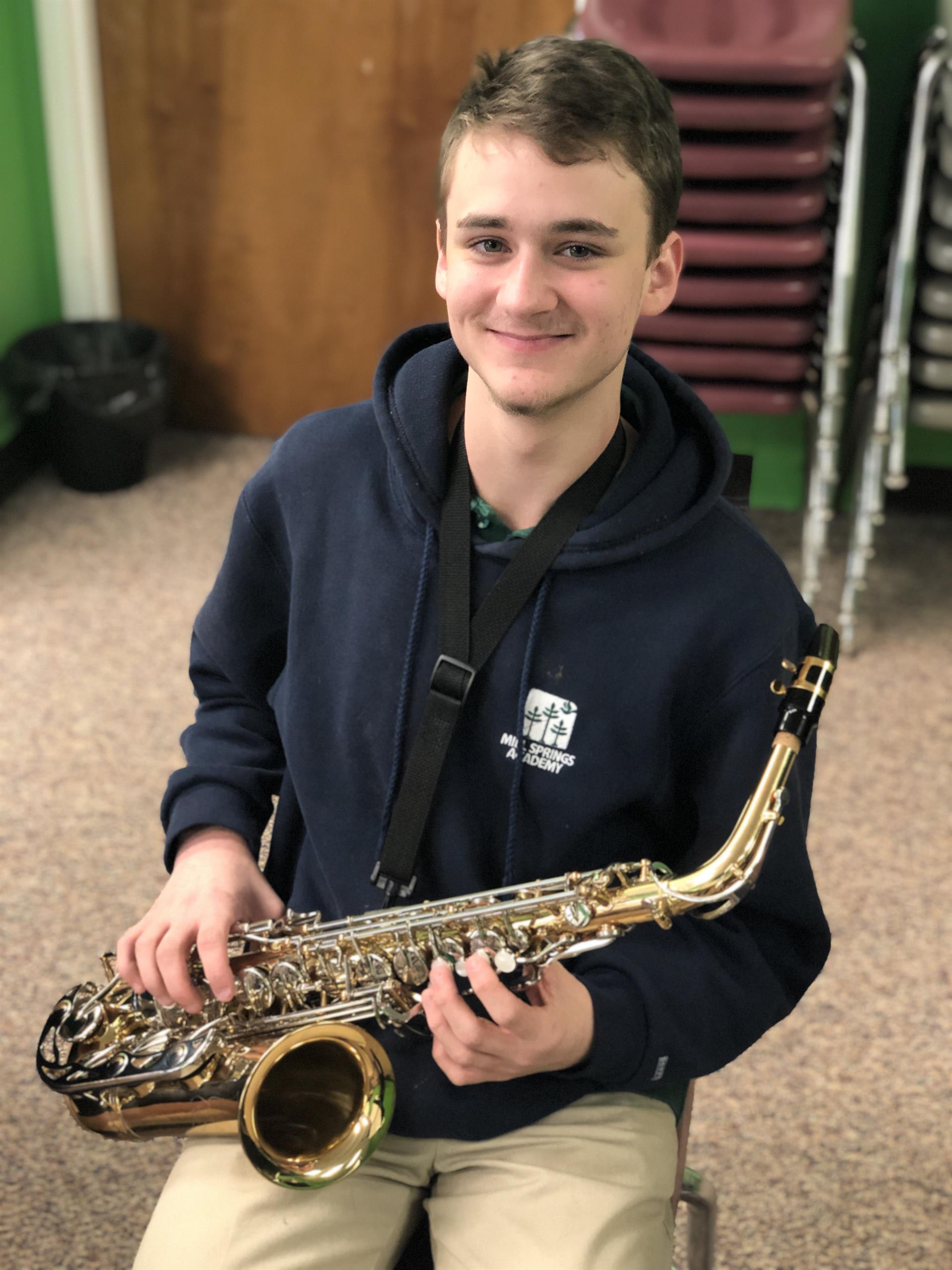 Fine Artist of the Week

This week's Fine Artist of the Week is Jeffrey Naszcyniec! Jeffrey is a new member of the MSA Band, and is jamming it out on the saxophone. He always comes to class with a smile and a very positive attitude. Jeffrey is always cheering on his band mates and helps them in any way possible, while also working very hard on his own musical parts. All this and so much more is why Jeffrey was chosen this week. Way to go Jeffrey, you rock!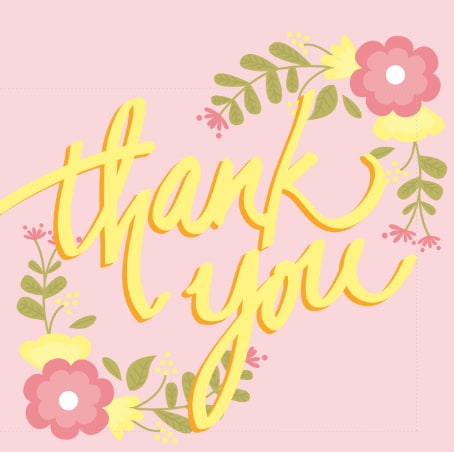 Thank YOU!

Thank you, Monica Stokes (PreUpper Parent), for providing lunch for the entire cast and crew of Shrek the Musical at our all-day rehearsal on February 22. It was yummy and so much appreciated!!
Sincerely,
Kate McElliott and the entire Shrek Crew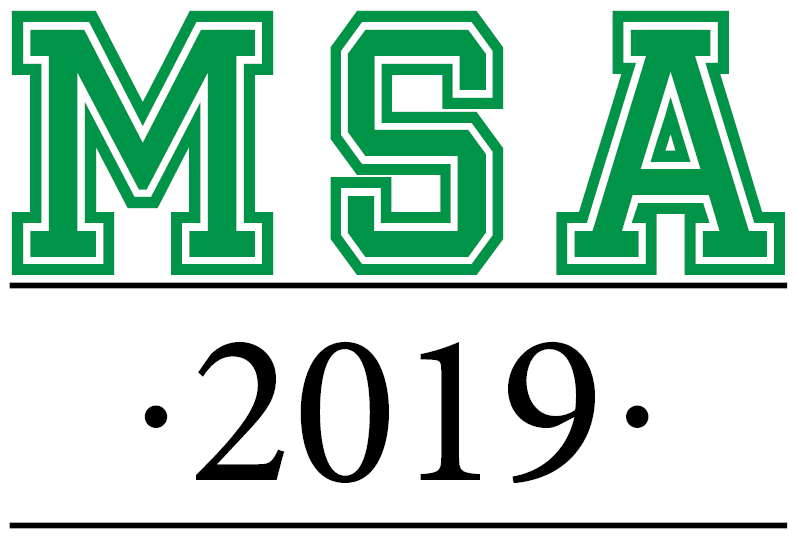 College Acceptances

Congratulations to the following students on their acceptances to the indicated schools:
Jacobi Garrett - Chatham University, Pittsburgh, PA
Jack Hurtsellers - Manhattanville College, Harrison, NY
Way to go Mustangs! We are proud of you!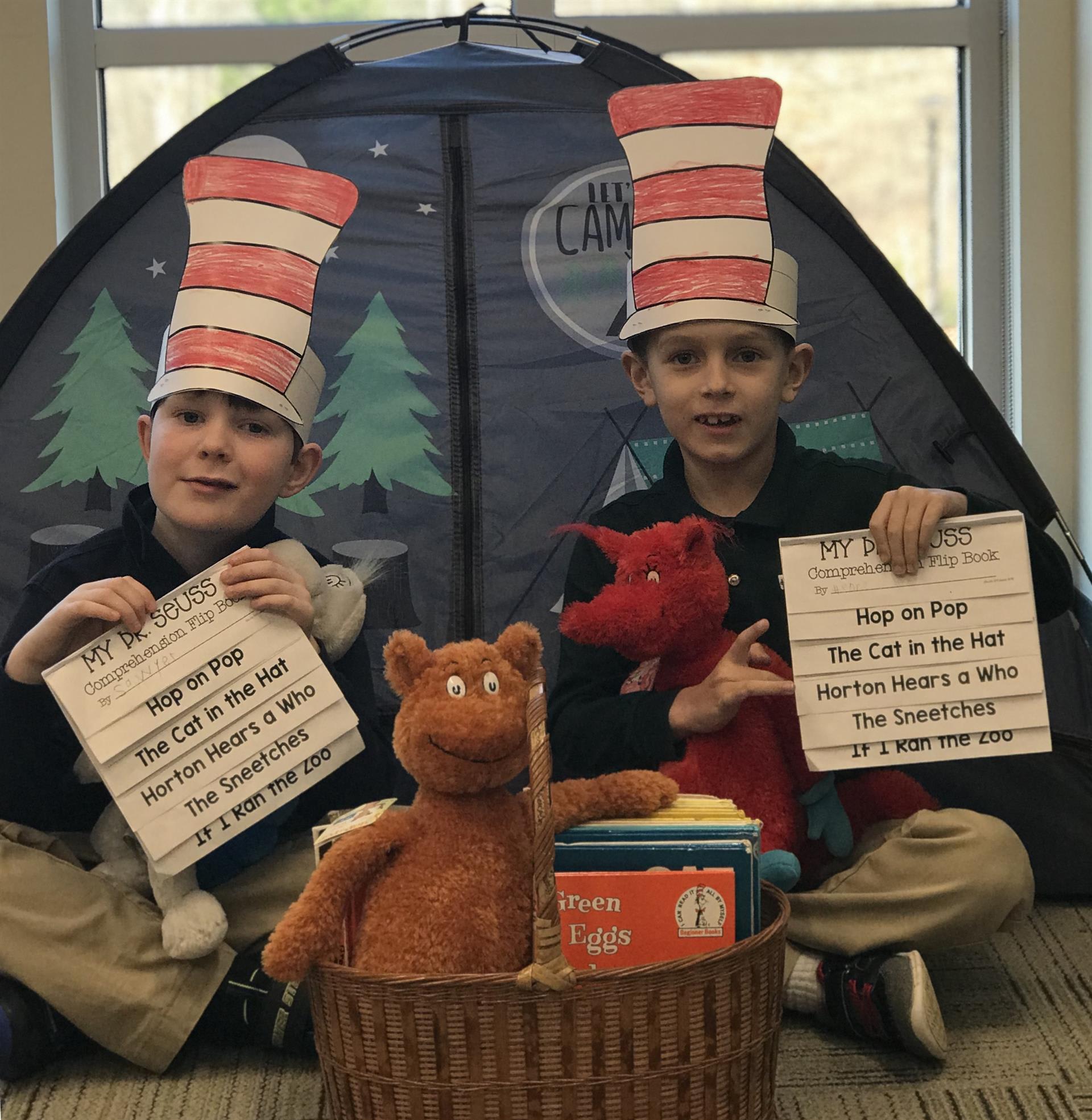 Oh What a Treat, It's Dr. Seuss Week!

Branigan's Lower School reading class celebrated one of our favorite authors, Dr. Seuss! We read a new book each day and completed activities to go along with our book of the day. The books we read were Hop on Pop, The Cat in the Hat, Horton Hears a Who, The Sneetches, and If I Ran the Zoo. The students made a flipbook about all of these books and worked on comprehension skills. They worked on rhyming, identifying problems and solutions, and sequencing. They also created their own imaginary animal to put in the zoo. You can do so many fun activities with Dr. Seuss books. This week was full of fun! Pictured (left to right) Sawyer Smith and Henry Waugh.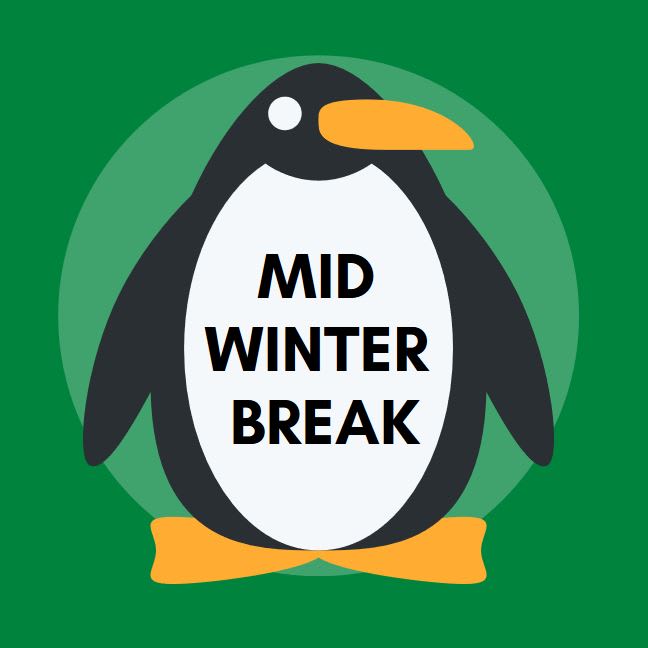 Ready for a Break?
NO SCHOOL
Friday, March 8 and Monday, March 11
This is our Mid Winter Break and Mill Springs Academy will be closed on both days.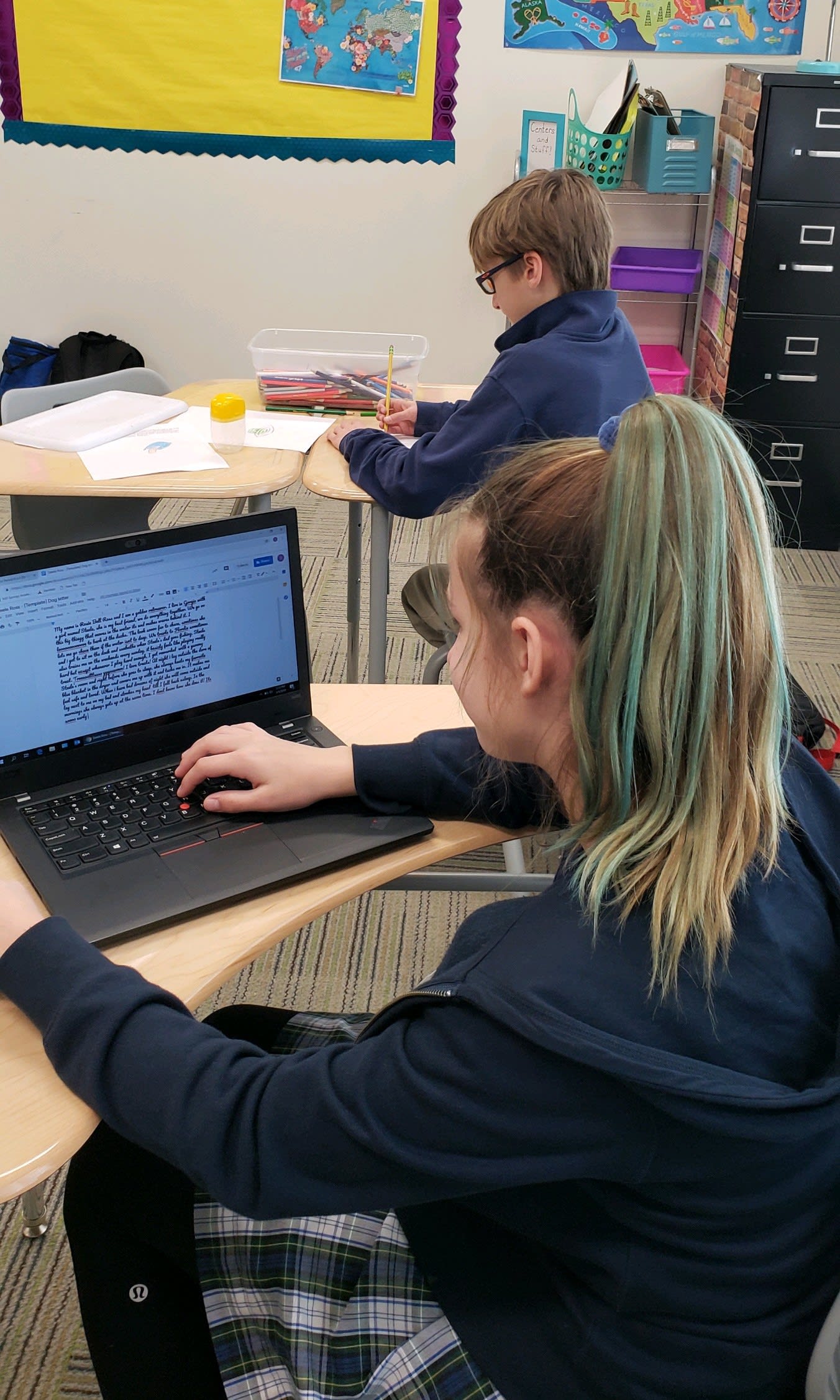 Write On!

Middle School writers are at it again! We are using our writing to persuade readers towards our points of view! We are writing step-by-step directions for our classmates to follow, in order to see if we've included each step. We're writing letters to soldiers stationed in Kuwait. When we found out about a girl in Wisconsin who was struggling with a serious illness, and her wish for letter, Middle School writers sharpened their pencils and charged up their computers and got to work. These were no ordinary letters, but, as requested, letters written from the point of view of our pets! How original and cool was that? After our March break, we'll finish up a unit on grammar and then begin a summer tour brochure project, to inform our peers of multiple great things to do in the Atlanta area. Our wish for you? We hope you'll keep writing!! Pictured are Steele Ross and Devin Coetzee
--Amy Abramson, Middle School Teacher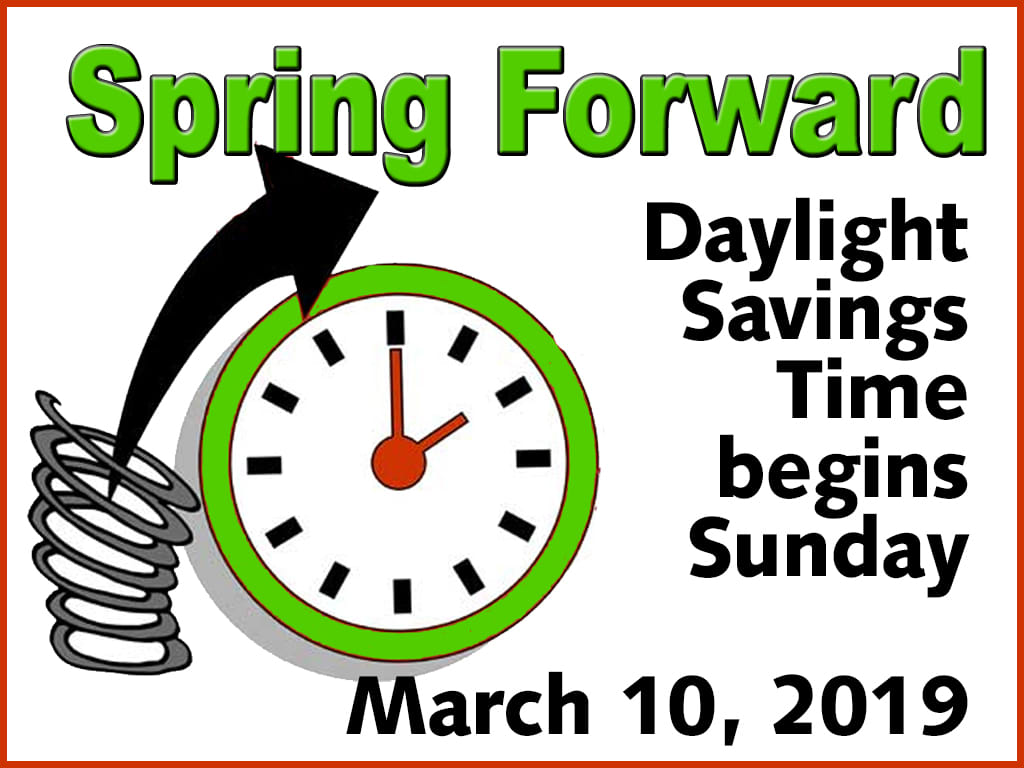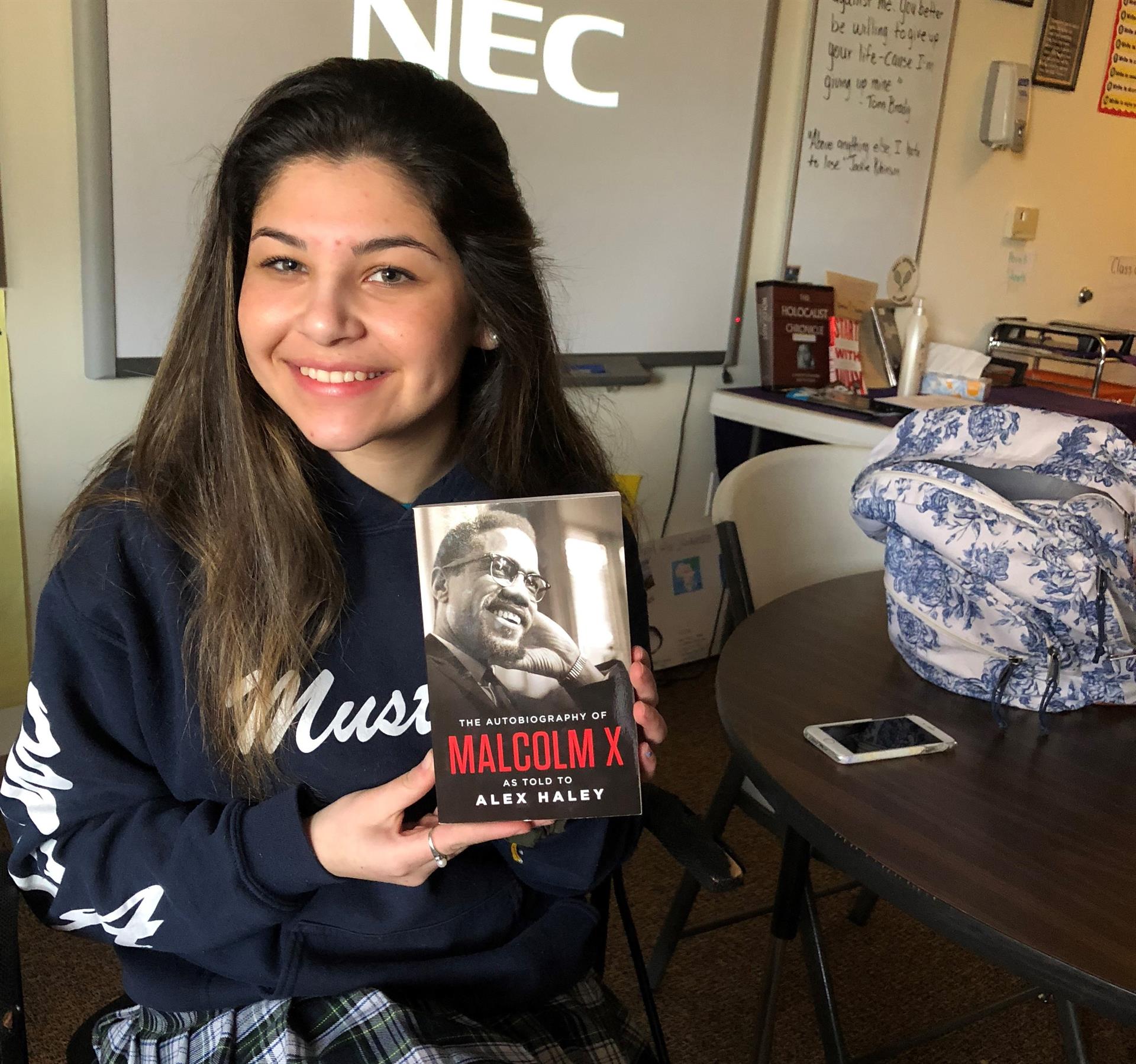 British Literature Happenings

In British Literature we recently completed our study of Geoffrey Chaucer's The Canterbury Tales. As you know, Chaucer's Tales were incomplete. He died before the completion of the pilgrimage. Perhaps there is some irony there, in that our journeys are never complete. And these reflections that we make along our journeys instill in us a sense of growth, hope and power. As 11th Grader Nya Lewis writes, "The Pardoner's Tale is about greed, and his story may be a way to [warn] others and to not allow it to get the best of them." Others wrote and had discussions about how many of the pilgrims were misjudged, simply by how they looked, their faults and their status.
We later compared Chaucer's pilgrimage to that of Malcolm X's journey to the Holy Land of Mecca. A pilgrimage that every Muslim must take during their lifetime (if they can afford it). One can form their own opinions about Malcolm X; however, based on the passage that the students analyzed, Junior Michael Slifer wrote, "His pilgrimage to Mecca made him realize that it's unfair to hate all people. He believed that the culture in America impaired his vision from seeing that life is a ladder and everyone is trying to climb up it."
Pictured is Megan Suarez, holding a copy of Malcolm X -  READ MORE .

Public Open House
Wednesday, March 13
9:00 - 11:00am
Student Activity Center
Many of you have attended an Open House on campus, and if you have, you know it is a great opportunity for someone to get a good feel for what Mill Springs is all about. If you haven't attended an Open House, it provides potential families with an overview of the school, a wonderful Fine Arts presentation, at least one parent and one student perspective, a tour of the school and an opportunity to speak with the principal. If you know someone that might benefit from attending MSA, PLEASE invite them to an Open House or better yet bring them! Word of mouth is by far the biggest way families find their way to Mill Springs. We know that you sometimes have the chance to be "Mill Springs on the Street" and we truly thank you for sharing MSA! www.millsprings.org/OpenHouse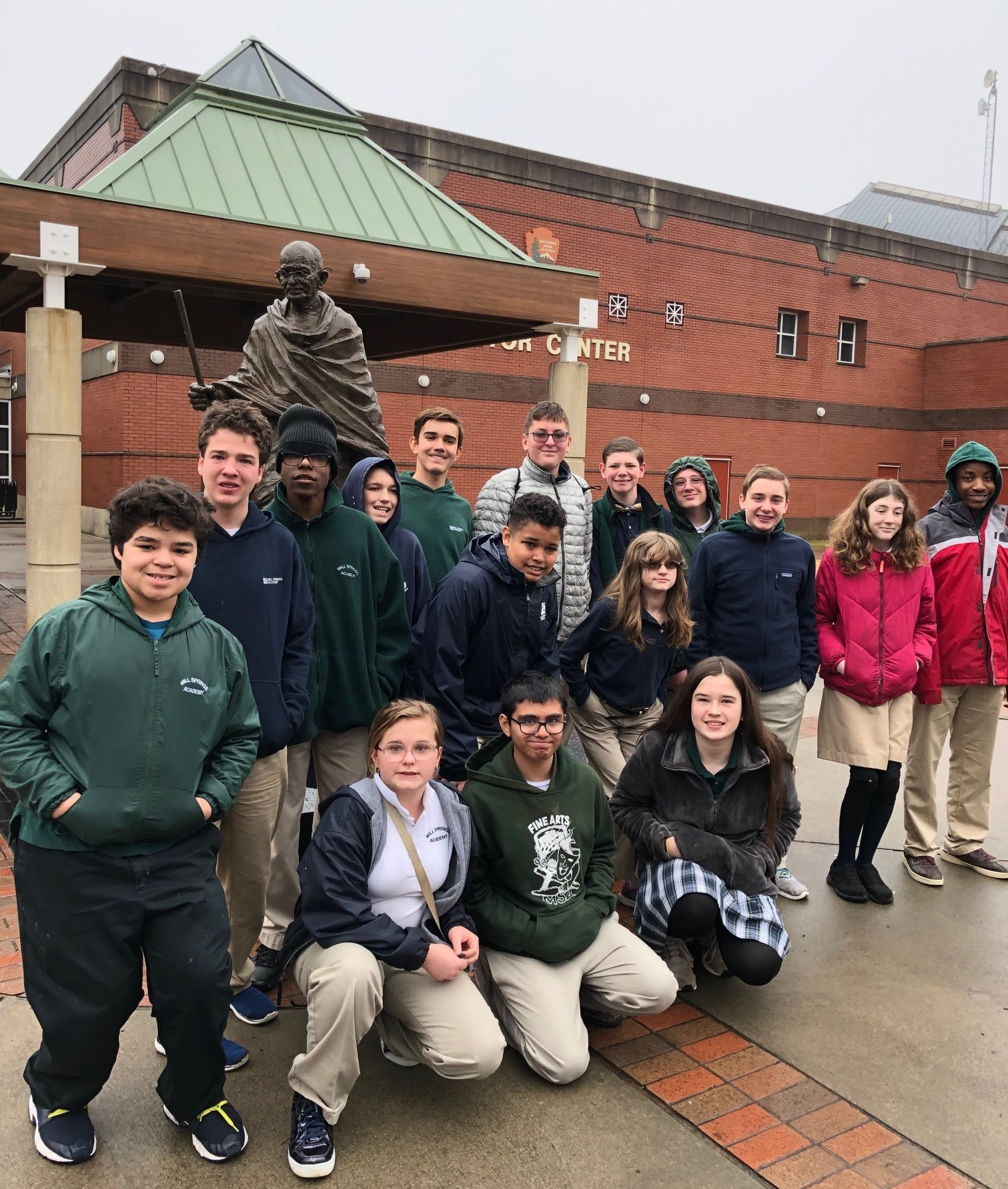 King Center

Last month the Communication Arts 7th and 8th grade students journeyed to the King Center. We watched an amazing documentary about Martin Luther King Jr.'s childhood, explored a museum of his life and explored Auburn Avenue. On Auburn Avenue we were able to tour Ebenezer Baptist Church, as well as see his childhood home. What an amazing piece of history right in our city.
--Bonnie Bergstresser, CommArts Instructor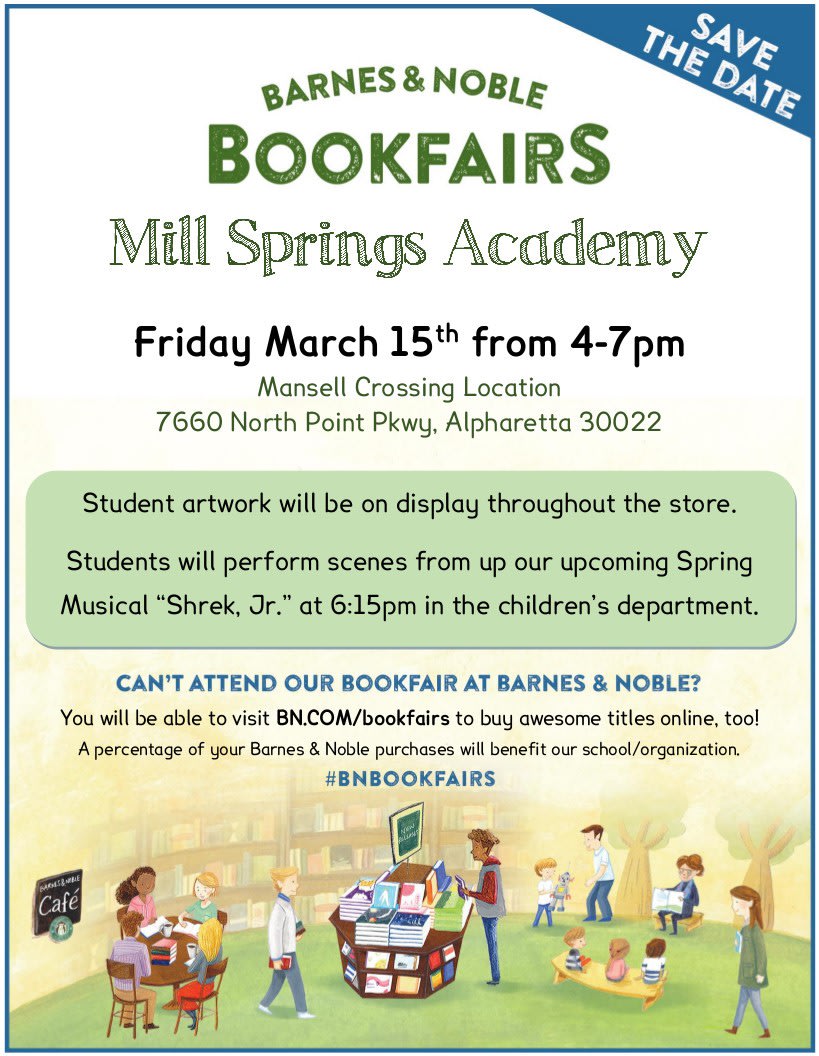 ParentsWeb Financial Information

We mentioned awhile back that RenWeb (where ParentsWeb is housed) was purchased by FACTS. As you may know FACTS is the company where you make tuition payments. They are now one under the FACTS Management. Our goal is to make things easier for our families. So now when you access your ParentsWeb account (found under Quicklinks on the website), instead of just getting database information, you will also be able to see your FACTS account balances, make payments to FACTS, and just access your FACTS account in general, all with the same secured login information! Just click on the FINANCAL link from the menu on the left.
If you have any problems or questions, please don't hesitate to ask, call or email Cheri Harwood. We are in the learning mode just like you, but if we don't know the answer, we will certainly find out for you.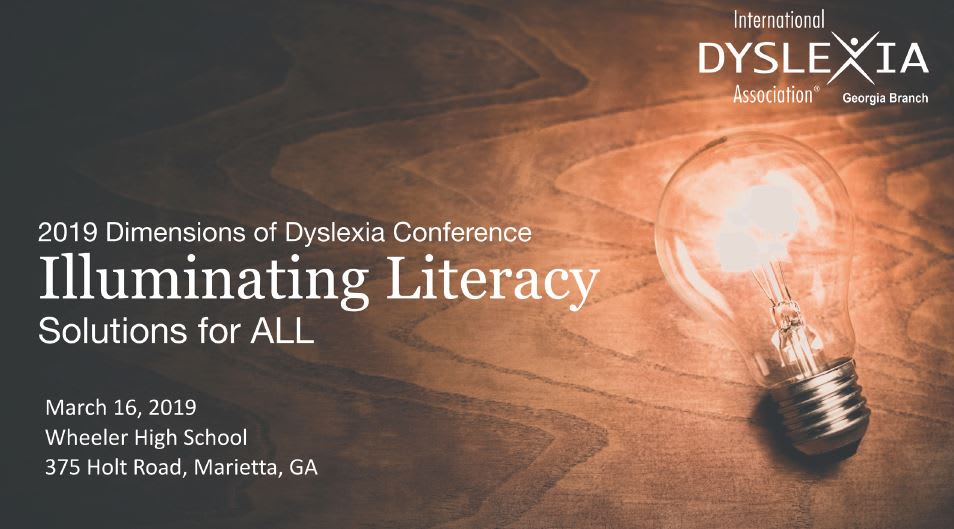 MSA is Proud to Sponsor
We are proud to be a Diamond sponsor of the Dimensions of Dyslexia Conference. If you are interested in attending, just go to the IDA-GA's website and you can get more information as well as register to attend (registration ends on March 13). If you attend the conference, make sure you stop by and say 'hi' to Sheila and Margaret in the vendor area.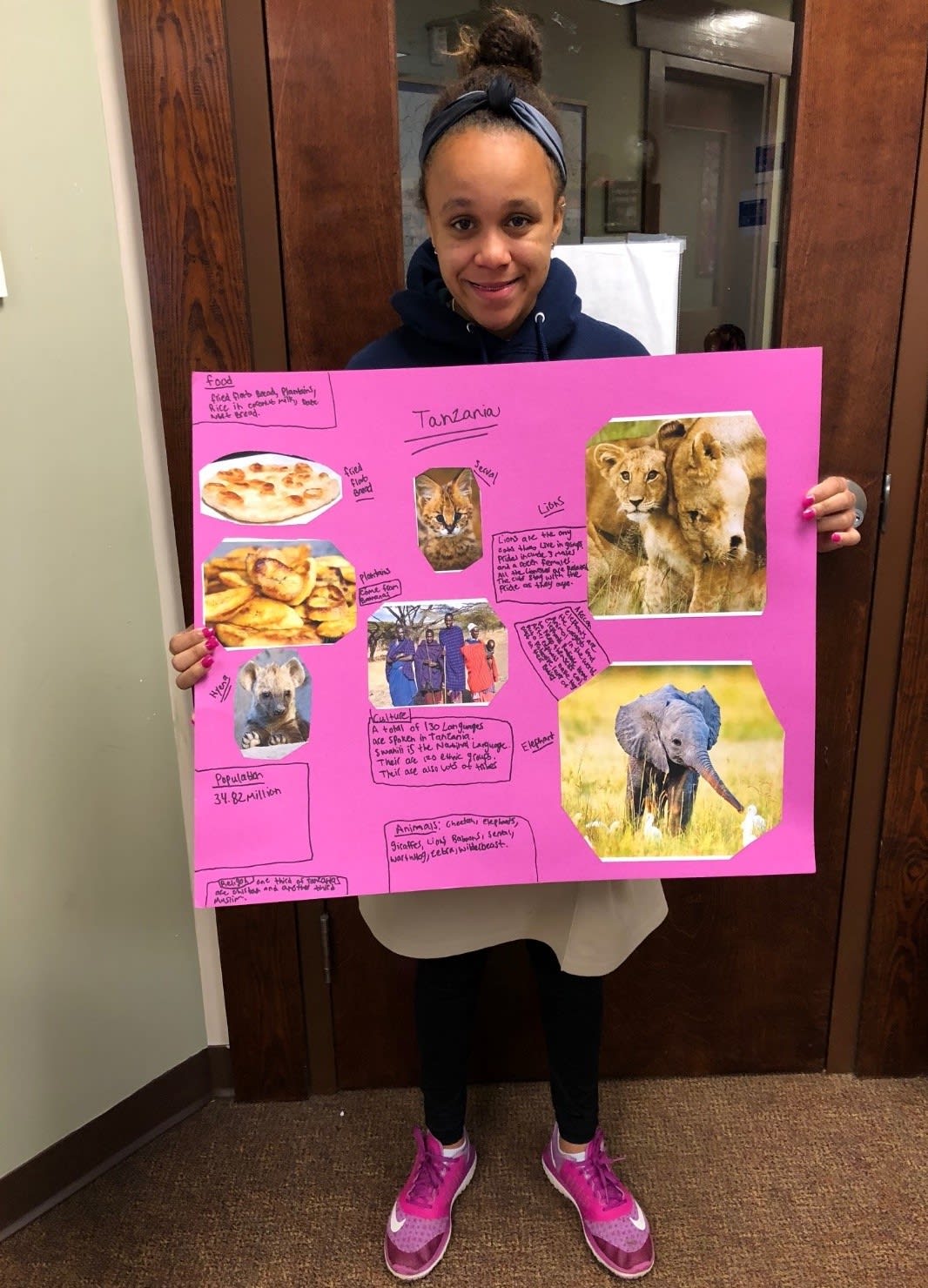 Africa Projects

My students have been working hard on our African Poster Projects. Each student chose a country in Africa to research, design a poster, and present it to the class. We have been studying all about Africa's people, land, beliefs, and customs. This is a great way to end our time in Africa. Next stop, Asia! Pictured is Elli Banks with her project on Tanzania.
--Kris Hawksworth, PreUpper Instructor
If you plan to attend, we would love to know how many of you there will be. Please RSVP for the Dinner and Show by,
Going to the PVA website
clicking on the Events & News tab
scrolling to the bottom
the form is on the left - just fill it out.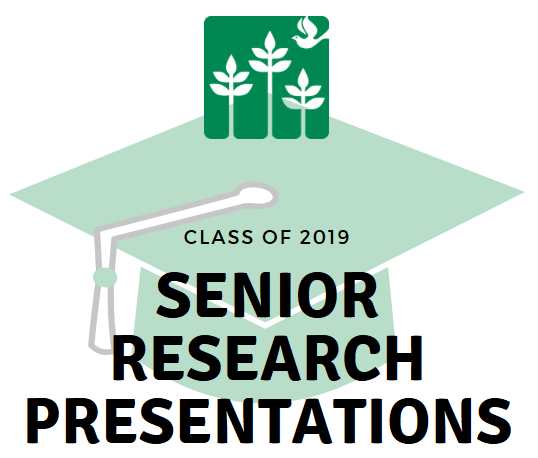 Senior Capstone Project

Senior Research Presentations are a capstone project that every senior completes at Mill Springs Academy as a part of their Senior Research & Composition class. In the fall, students choose a topic of interest, a passion project, issue of social import, or one of investigatory significance to examine, define, research, and then compose a research paper. In the spring, they take their fall research and break it down into components to illuminate and present. We are proud of the hard work these seniors have invested in their education and futures. There is more information about the schedule and who is presenting what project on the Senior Presentation webpage. You are invited to attend any and all presentations.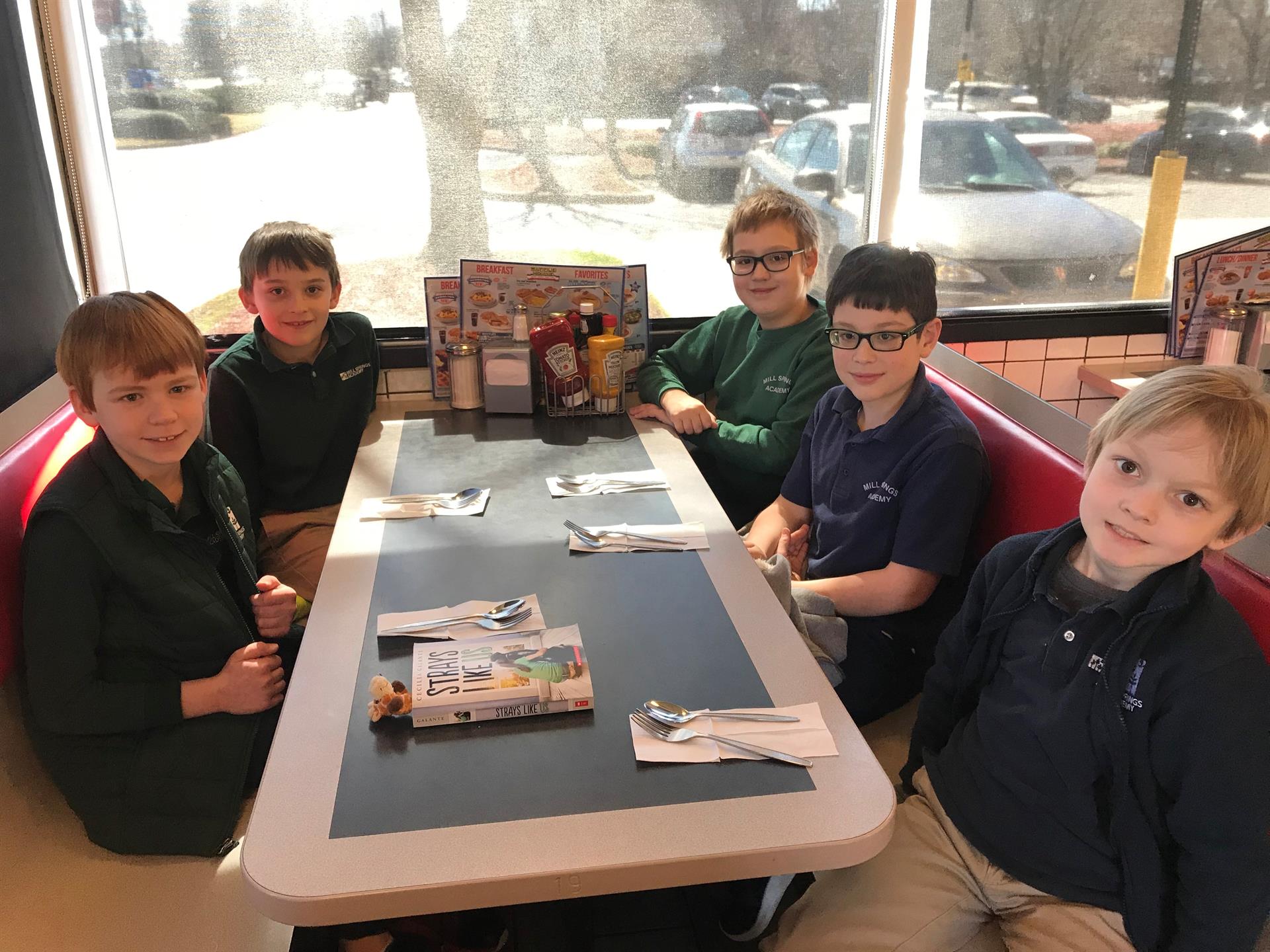 Reaching Level L or Level R

Our Lower School students are working hard on becoming Level L's and Level R's. Level R stands for Role Model, Responsible and Respectful - each student must be all of those things consistently to be supported by their community to become a Level R. Level L students must demonstrate leadership and citizenship by being an active, positive participant of the community. Both Level L and R students must maintain those traits both here on campus and on all of their off campus school outings. The picture shows the group of L's and R's that earned a to Waffle House for Lunch - this was Ethan Cohn's first Level R lunch. Pictured are Preston Bonham, Zac Johnson, Max Young, Ethan Cohn, and Lucas Hennings. All are Level R's with the exception of Max who is a Level L. You guys make us proud - on and off campus!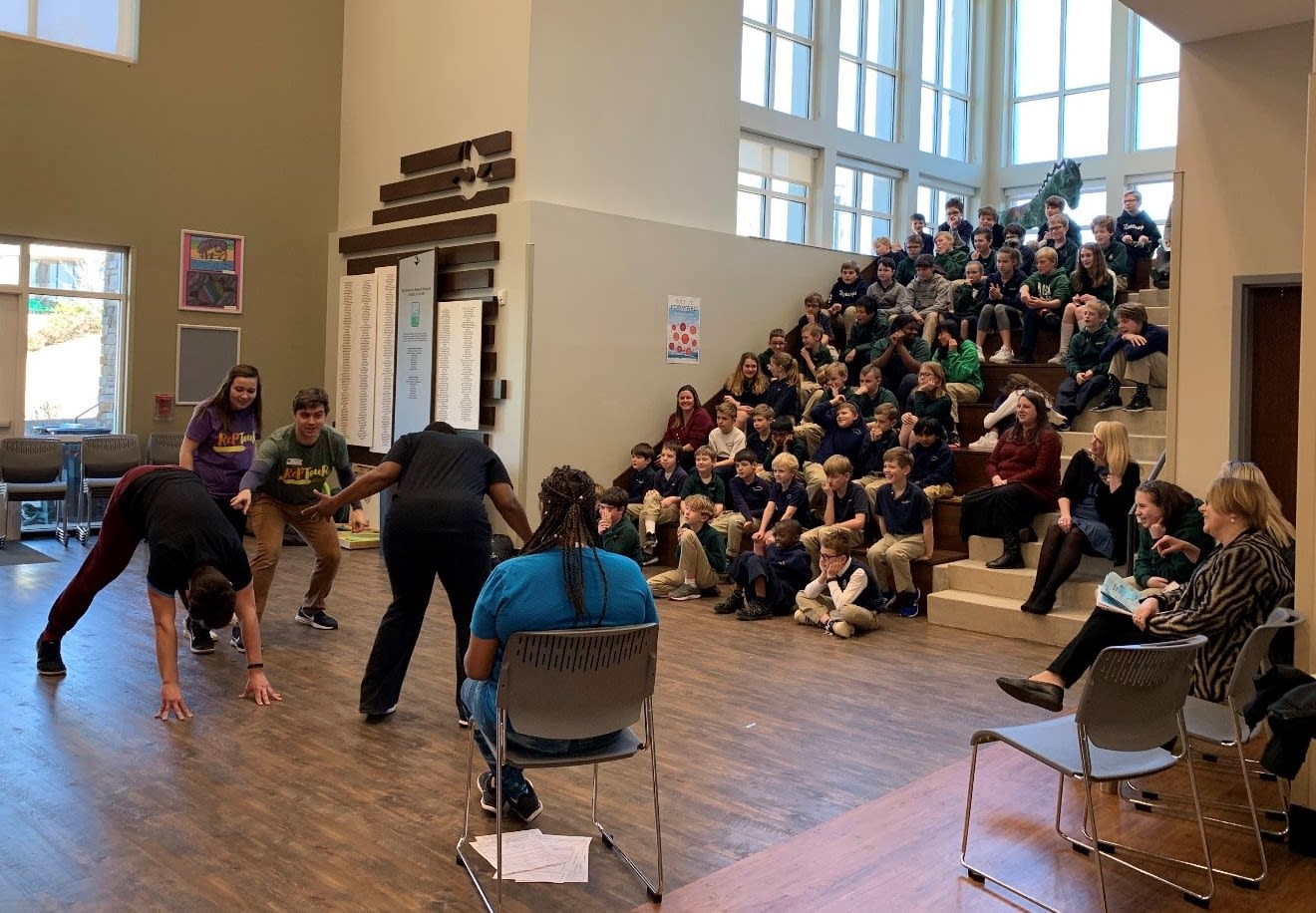 Celebrating Storytelling

Wednesday, the story performance group RepTour visited Lower and Middle schools for the second year in a row. They performed a comedic version of "The Three Billy Goats Gruff" (spoiler: the troll and the goats become friends!), and they ended their performance acting out MSA student-written stories improv-style. They snuck into a Taylor Swift concert, had a dance off, went to the moon for cookies, found treasure at the end of a rainbow, time traveled back to the American Revolution, and found a magical door that led to a world of only puppies! There was lots of laughing and excitement as we celebrated creativity and the storytelling process! The actors are pictured finding a "rainbow".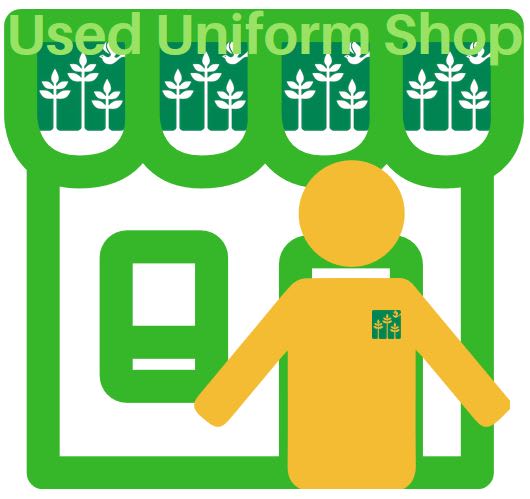 Stop By and See What we Have!

Remember to stop by the Used Uniform Shop for great deals on shirts, pants, skirts and jackets. New donations are arriving weekly. Most items are between $5 and $10. We are open on Tuesday and Friday mornings from 8:00 to 9:00.
If you are interested in volunteering, please email Chrissie Reed: cvreed@me.com. It's a great way to get involved at Mill Springs!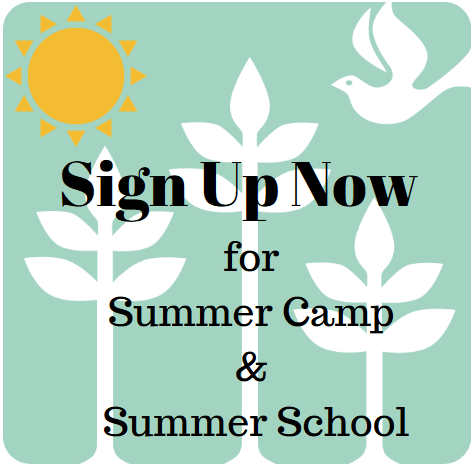 Summer Programs have Open Registrations

Did you know that there are lots of fun things going on here during the summer? All of those things are open to everyone, not just MSA students. Summer is always more fun with your friends, so bring them along!
You could sign up for a sport activity at our Summer Athletic Camps, you can see the schedule and register on the website.
If you or someone you know needs to earn some high school credits, there is always Summer School. Take a look at our Summer School offerings and share them with someone. We are offering most core classes and certain electives.
If you are looking for a camp program, look no further than Mark Trail Camp, you should check out our summer camp activities we are offering there, lots of fun coming up!
Any Questions?
Summer Athletic Camps - James Sampson

Summer School - Taniah Jones

Mark Trail Camp - Nina King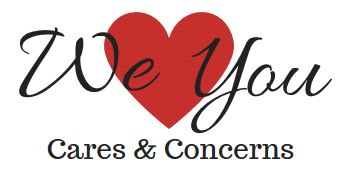 Community Cares & Concerns

The Allen Family
The Buckley Family
The Carlson Family
The Day Family
The Smith Family
Thomas and Family
If there is ever a care or concern you would like to share with the community, please just email me at any time, I will be glad to include either names or situations. For privacy, I will only list names and claim ignorance if anyone asks me for details. Cheri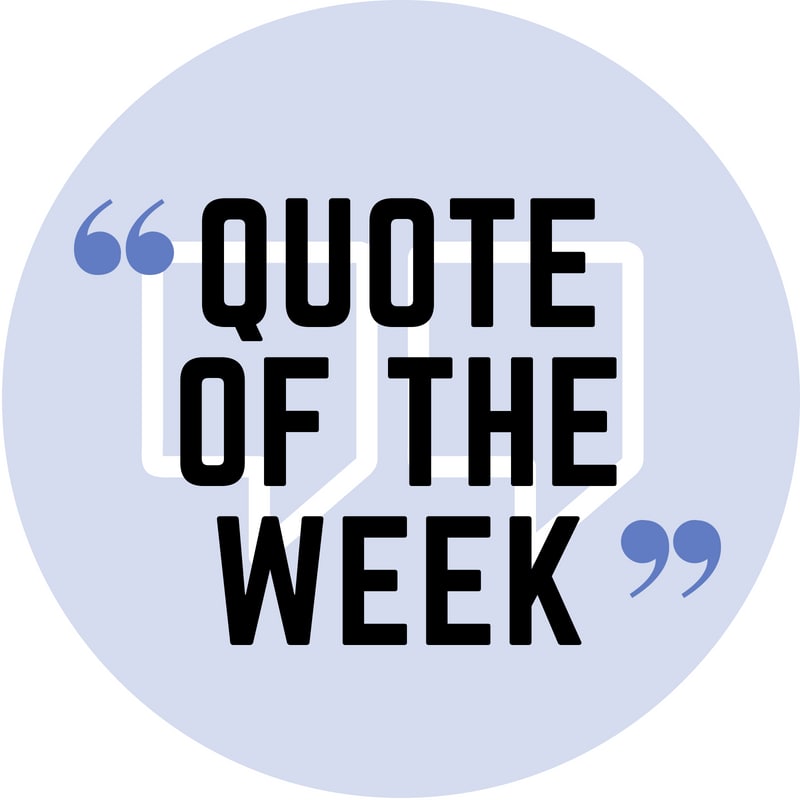 Quote of the Week
Diligence is the mother of good fortune.
--Miguel de Cervantes
Thursday March 7
3:30 PM - 5:00 PM
Dominion Christian Schools
Saturday March 9
All day
U Grt Rm
Wednesday March 13
9:00 AM - 11:30 AM
Theater
Wednesday March 13
3:30 PM - 5:30 PM
MSA
Wednesday March 13
3:30 PM - 5:30 PM
Trophy Club Golf Course
Thursday March 14
3:15 PM - 5:00 PM
Roswell Park
Thursday March 14
3:30 PM - 5:00 PM
Atl.Girls School Tennis Facility Carl E. Sanders YMCA